July 11-17, 2007
home | metro silicon valley index | movies | current reviews | film review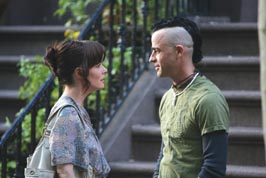 Courtesy Magnolia Pictures
Mohawk Better Blues: Justin Theroux shows off his latest 'do for Parker Posey in 'Broken English.'
Nick and Nora
Parker Posey stars as a singleton under the influence in 'Broken English'
By Richard von Busack
SCENES of Parker Posey putting her face on, during the titles for Broken English, serve as an early signal of a very different kind of performance from her. We see Nora (Posey) guzzling out of a wine glass as she readies herself for the fifth-anniversary party of friends whom she introduced to one other. The wife is her pal Audrey (Drea de Matteo of The Sopranos), who masks her discontent during the hearty toasting and pointed requests for grandchildren. Next, Nora is the one in the hot seat: When is she going to get married and settle down?
Nora encounters the fatuous TV actor Nick Gable (Justin Theroux). She goes out on a date with him at a Japanese restaurant, where they both sluice down sake from wooden boxes. It must be destiny: Nick and Nora. The inevitable happens. After telling her friends and family about the wonderful new guy in her life, she sees Nick on TV talking about the wonderful new girl in his life: a blonde L.A. actress. Bereft again, Nora drains more wine and forces herself to go to a party, where she meets Julien (Melvil Poupaud), a visiting Frenchman. Julien comes on very strong, and Nora tries to flee, but after drinks, they spend the night together. The stages of this romance are the most effective and least wallowy part of Broken English. This is an anti-date that changes into a date, as described in the Beatles' "Norwegian Wood."
After a brief moment of happiness, it turns out that Julien is due back in Paris. Nora and Audrey get quick jobs as couriers and head to France; during their deliveries, Audrey's discontent with her marriage leads her straight into some available arms. Nora meets an elderly French woman (Bernadette Lafont) who mistakes her for her granddaughter. Temporarily, the purpose of the trip gets mislaid—mislaid, that is, as Julien's address, which Nora can't find in her luggage. Less glamorous than she was in Fay Grim, Posey dresses down at first. Nora isn't as bright as the typical Posey character. Though she's been to Sarah Lawrence, she doesn't have much of a life of the mind, or much talk about anything besides finding a man or her love-hate affair with too much drink.
Sensing a bigger film within this small one, Posey demonstrates a deep, vivid terror of aloneness and the kind of vulnerability she has never really shown before. From one angle, director Zoe R. Cassavetes is continuing her father John's work, studying the trials of a woman regularly under the influence. From another angle, she focuses so singly on a lady's crisis that almost nothing from the outside world intrudes. Years ago, Bogart told Bergman that in this world, the problems of little people didn't add up to a hill of beans. Broken English is definitely a hill-of-beans movie. It is disengaged from its surroundings. By the time Broken English is over, all of its studiously anti-Hollywood technique has said nothing more profound than "love hurts."

Broken English (PG-13; 97 min.), directed and written by Zoe R. Cassavetes, photographed by John Pirozzi, and starring Parker Posey and Drea de Matteo, opens July 13 at selected theaters.
Send a letter to the editor about this story.