July 11-17, 2007
home | metro silicon valley index | the arts | stage | review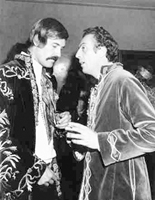 Courtesy Dagmar
Strange Days: Michael Butler (left) and 'Hair' partner Bertrand Castelli back when everyone was cooler.
'Hair' Fare
Original producer Michael Butler talks about San Jose's new production of '60s musical classic
By Marianne Messina
FORTY YEAR AGO, when producer Michael Butler first got involved with Hair, he was a charismatic jet setter—godson of Tyrone Power, heir to a family business with holdings in the Middle East and a consultant to John F. Kennedy. It was the politics that brought him to Hair (book/lyrics by Gerome Ragni and James Rado, music by Galt MacDermot), and a long theater career later, it's politics that's bringing him back. "Now it's even more important than it was in 1968," Butler states. "We're in serious trouble." Pointing out that there are currently six productions of Hair going on in California alone, Butler views the resurgence as a change in the air: "Something's going on there."
Butler probably knows the six productions first-hand, because he remains involved in as many as possible, fostering the spirit of the original—"an American classic"—and passing it forward. It was in this supporting role that Butler introduced Jon Rosen of San Jose's Stagelight Productions (you may already have seen them street-performing "Aquarius" around town in advance of its version, opening this week) to the Hair Archives. Yes, there's a Hair Archives, and Rosen traveled all the way to Massachusetts to visit it, drink a draught of Hair history and enlighten his production by it.
Rather than the large venues one associates with Hair, Rosen's Vietnam-era draftees, lovers and peaceniks take over the tiny cabaret space Theatre on San Pedro Square as they belt out songs like "Let the Sun Shine In." But according to Butler, the only reason to stage Hair in a larger venue is economics. "I'm doing it in a 96-seater," he says of his upcoming anniversary production in L.A. in the fall. "That is the best way you can possibly see Hair because it's so intimate—you're right there, you're part of the action."
As Rosen and Butler talk about their productions, they refer constantly to "the tribe," Hair-speak for "the cast." One of Butler's "iron-clad rules" for a successful production is establishment of the tribe. Rosen has upheld the convention by gathering the Stagelight tribe during business hours for pre-opening street performances. Butler boasts that the tribal bond is why former Hair performers never turn down the chance to reprise a role, and when he throws a Hair reunion several hundred cast members show up.
The original concept for Hair's tribe was inspired by Native Americans. That particular connection was a natural magnet for Butler the first time around. When President Kennedy was sounding Butler out for a possible post in his administration, Butler replied that he wanted to head the Bureau of Indian Affairs. As Butler writes in his journal: "Jack responded, 'I can't believe you want to get in that snake pit.' I confided to him that I wanted to disband the BIA and give the funding directly to the Indians." Instead, Butler got diverted to the family business, and Kennedy's assassination broke his political spirit—until the end of the '60s, when he began his decade-long love affair with Hair. As Butler sees it, corporate interests made sure the hippie movement got a bad rap. "It was very strongly attacked by the establishment, by the corporate interests who were terrified because this would dispel what we have today—globalization and things like that—I mean they used Manson as an example; Manson was not a hippie."
For Butler, Hair is the good rap. When he says, "There's nothing out there that does what Hair does," Butler, who mobilized support against web censorship in the '90s, clearly still vibrates with a strong sense of political activism. Because of its nude scenes, Hair blazed a freedom-of-expression trail across the country that landed in the Supreme Court, twice. And in his secret heart, Butler may hope Hair can kindle a movement. As he muses over the show's themes, "basically freedom, peace and love," he calls Hair "the strongest exponent of the hippie philosophy that ever existed. And that was a philosophy that I think a lot of people wish we could get back to nowadays."
Hair, presented by Stagelight Productions, previews July 13 at 8pm ($10 tickets) and opens July 14, with regular shows Wednesday–Friday at 8pm, Saturday at 2 and 8pm and Sunday at 2 and 7pm (2pm only on July 15) at Theatre on San Pedro Square, 29 N. San Pedro St., San Jose. (The show also runs Aug. 9–24 at the Historic Hoover Theatre in San Jose.) Tickets are $15–$30. (800.838.3006)
Send a letter to the editor about this story.