July 11-17, 2007
home | metro silicon valley index | music & nightlife | profile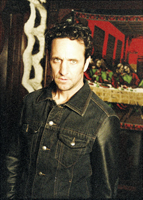 'Staggering Talent': Undercover punk Ike Reilly performs July 20.
Assassinate This
Ike Reilly is the best songwriter you've never heard
By Steve Palopoli
IF YOU DON'T understand why Ike Reilly's a punk, well ... fuck you.
It's hard to say what's been keeping the world from paying the guy his punk rock due. Is it the way the beat of his first album, Salesman and Racists, makes even the most ironic indie kids want to shake their asses? The glittery, sleek riffs that made Sparkle in the Finish the perfect name for his follow-up? The dark, distorted ballads of last year's Junkie Faithful? Or maybe the ragtime breakdown in the middle of "Charcoal Days and Sterling Nights" on his latest, We Belong to the Staggering Evening?"
"My view of punk is more philosophical than sonic," says Reilly.
And what exactly is that philosophy?
"It's so punk it would be uncool to say what it is."
Reilly is not a guy who takes himself too seriously. This was clear from the beginning, when he introduced himself to the world on his 2001 major-label debut with the line "Last time, I couldn't make you come." So it's kind of incredible that he claims "I continue to get less serious as I go along." But not necessarily untrue.
Still, there are at least two things Reilly takes seriously, when it comes down to it: his songwriting and his band. And as far as he's concerned, one needs the other. That's why their moniker, the Ike Reilly Assassination, is more than just a clever parody of the typical rock "project" names.
"It's actually the singer-songwriter that's being assassinated," he says. "I always wanted to be in a band, I didn't want to be a singer-songwriter. I knew the guys in the band were all killer musicians and had the same attitude about my songs as I did, and they would go with me where I had to go. Wherever the vibe needed to be with the lyrics, they would be there."
The new record is Reilly's first real attempt to capture the point at which the songwriting and the playing intersect, resulting in his rawest and most visceral album yet. It rips open with the first track, "8 More Days Til The Fourth of July"—frenzied, desperate, punk as fuck. There are echoes of hardcore heroes, but the sound reaches back even further to the era of the first rock wildmen, a modern version of, as one of Reilly's songs once put it, "Jerry Lee Lewis with his balls on fire in the back of a Rocket 88, with an out-of-state plate and an underage date."
"I'm much more inspired by the danger that '50s music emoted," says Reilly.
Perhaps, if time paradoxes allow, the best description for Reilly's vibe would be pre-punk, sort of in the same way people think about Lou Reed. Reilly also has a song called "Heroin," after all—in fact, substance abuse of all types runs rampant in the work of the man who wrote "My Wasted Friends." The new song "Valentine's Day In Juarez" may take the cake, with its laundry list of "cocaine, oxycontin, mushrooms, marijuana, vodka, if you got 'em, he's gonna want 'em," rivaling Queens of the Stone Age's ultimate drug song, "Feel Good Hit of the Summer."
But Reilly is so much harder to pin down than Reed. Every point has its counterpoint, often in the same song. The self-aggrandizing, best-band-in-the-world cliché is undermined in "Ex-Americans" by the fact that he's singing about a band that he's not in—one that, in fact, doesn't exist. (Although with lines like "who is gonna rock for the prisoners at the protest? It's the Ex-Americans," you can't help but wish it did). The rock sex agenda is supported by songs like "Farm Girl" and "Let's Get Friendly," then undermined by lyrics like "I'm pretty certain you won't ever want to sleep with me again." The exuberant "Put A Little Love In It" and "What A Day" are mostly about death. The blue-collar protest song "Suffer For the Trust" holds out hope for integrity in one line, then dashes it in the next: "They don't pay us enough to suffer for the trust/ I'm gonna take what's mine before the cause gets just."
Reilly's dualism bleeds through all aspects of his work, as if he's constantly being chased by his own evil twin. The vocabulary of his songwriting pits a poetic, classic style against in-your-face and sometimes controversial lyrics, though he himself doesn't see it that way.
"It's so natural for me to sing those songs that I don't consider it at all alarming or daring. You know what I mean? That's kind of how I speak and kind of how I think, even though those songs aren't always a representation of what I believe on any subject. They're my lies, they're my thoughts—everything I overhear and that my friends say ends up in the songs."
To him, the crassness of something like "Hip Hop Thighs #17" (in which "Guns on the bar and his hands on your American ass" is just the beginning) is part of that unwillingness to take anything too seriously.
"I'm always willing to use appalling terms for a laugh," he says. "It's not for total shock either. It's just the people I run around with and the people I admire, you have to be forthcoming and forthright and sometimes provocative in conversation, and that stuff carries over into the songs."
It also carries over into the sound. Reilly has the rare ability to toy with song form and still end up with a crafty, coherent three minutes. The live favorite "It's Alright to Die" is a prime example. Lyrically, it's the flip side of "Drinking Wine (Spo-Dee-O-Dee)"—at the beginning of the song, the wine's already run out and the party's over.
"It's really a hopeful song," says Reilly. "In retrospect, I wrote it after we had lost a lot of people in our family, and I was kind of sick of all the 'oh God, he's gonna die!' I was like, 'yeah, this guy's fuckin' 85 years old, he's never been sick, he had a great fuckin' life, so it's no big deal! Now granted, there's a lot of suffering, and it's not all right to die for victims of oppression and murder and fuckin' psychopaths. That's not what the song's about."
Musically, it switches gears several times—stopping and starting on a dime, barnstorming and then launching into a solo acoustic chorus—but the parts come together to form an unlikely whole.
"I wrote it quickly as a country song," says Reilly. "But I didn't want to record a song in such a traditional form. So we figured out how we could do it that would be crazy. We had another version that was really dirgy, and then we ended up with what I always say are like Beach-Boys-on-steroids kind of verses."
In the end, that's maybe what's most punk about Ike Reilly—there's no one else like him, and he and his band refuse to change what's most unique about their art, no matter how many times someone tells them it'll never work, or simply that they're not supposed to do it like that.
"To me, it's the classic us-against-them kind of thing," says Reilly, finally revealing the punk ethos that underlies his work.
But he says it even better on "You're So Plain," a song from the new record:
I gotta know—did you come here for the money?
I gotta know—did you come here for the show?
I gotta know—did you come to see us fail?
Or did you come here 'cause there's no place left to go?
Ike Reilly performs solo and acoustic Friday, July 20 at 7:30pm at the Swedish American Hall, opening for Tom Morello's acoustic solo project the Nightwatchmen. The show is all ages, and tickets, available at ticketweb.com, are $16.
Send a letter to the editor about this story.