July 11-17, 2007
home | metro silicon valley index | movies | current reviews | film review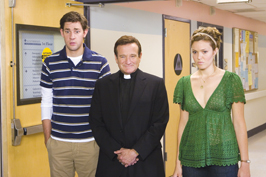 Photograph by Peter Sorel
Wed heads: John Krasinski and Mandy Moore get the worst kind of advice from marriage counselor Robin Williams in 'License to Wed.'
Horror Comedy
'License to Wed' is soon to be famous as 'the movie that caused those in-flight suicides'
By Richard von Busack
LET US salute Drac Studios, makeup artists and robot makers for the cinema industry; among their many tasks was creating the gore makeup for The Passion of the Christ, essential to the success of that film, particularly with the 14- to 21-year-old demographic. Certainly, the two hideous robot babies Drac Studios devised are the best part of License to Wed. Like real babies, they're required to do little but wail, leak at every orifice and foul themselves—turquoise blue Play-Doh serves this purpose for the gag. A Chicago couple plans to marry; Sadie (Mandy Moore), a Chicago florist, wants to tie the knot in St. Augustine's, her family church. The priest there, Father Frank (Robin Williams), is an eccentric who forces the couple to undergo a three-week program before they can be married. Premarital celibacy is part of the plan, which of course is an outrage to fiance Ben (John Krasinski, in one of those roles that almost destroyed Brendan Fraser's career). We also must endure sessions and confessional therapy. Preparation for parenthood also includes babysitting a pair of the aforementioned hellish robot infants.
Somewhere in this limp, dawdling comedy lurks a good idea. These kinds of programs are on the rise. The management of so many of our more architecturally distinguished churches no longer allow couples to just walk right in and make promises that 60 percent will break within the next seven years. There's plenty of potential in a satire on these religious crash courses, but that potential isn't realized here. The need for a happy ending defangs License to Wed, which is full of reconciliation; and here are some of the most pussyfooting anti-clerical jokes this side of Reader's Digest. The Simpsons' Rev. Lovejoy fades this stuff on every conceivable level.
Father Frank is just supposed to be a wacky showoff. He doesn't have the faith to be certain he's doing the right thing when he's listening through walls or violating Ben and Sadie's life. He's not a religious fanatic. Nor is he genuinely crazy. Williams just riffs in a familiar fashion, telling dreadful jokes and twinkling like a 15-watt light bulb in a power surge. That Williams is on a choke-chain is nothing new. We have reached the point where those who can remember when Williams was a really anarchic spirit are dying off from old age. And maybe they're the lucky ones, since they don't have to see this.
When something's really bad, it's bad all the way around. Moore plays a woman without a mean bone in her body—and what use is such a boneless character to a comedy? Director Ken Kwapis, a frequent hand on the TV series Malcolm in the Middle, seems crippled by the rhythms of romantic comedy; the extra time he has to flesh out gags makes him linger over material he would be better off doing fast or not at all. License to Wed has the sense of work for hire, created reluctantly, at the bequest of a producer who wanted something exactly like Meet the Parents. Of the hands involved, only the robot babymakers were able to approach their task with creativity. Somehow these two vinyl-skinned simulacra have more life to them than anything else in this movie.

License to Wed (PG-13; 90 min.), directed and written by Ken Kwapis, photographed by John Bailey, and starring Robin Williams, Mandy Moore and John Krasinski, plays valleywide.
Send a letter to the editor about this story.