July 11-17, 2007
home | metro silicon valley index | movies | current reviews | film festival preview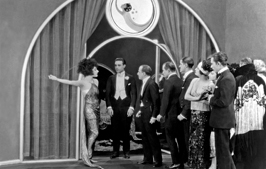 Courtesy British Film Institute
Tux in a row: Alla Nazimova beckons to her many admirers (including Rudolph Valentino) in the 1921 version of 'Camille.'
Of Films Past
Annual Silent Film Festival revives the glory of cinema's early decades
By Richard von Busack
TO WATCH Alla Nazimova in the silent film Camille is to recall Gen. Sternwood's comment to Philip Marlowe in The Big Sleep: "You're looking, sir, at a very dull survival of a very gaudy life." Nazimova, a Moscow Art Theater performer, studied with Stanislavski and was popular enough to have had a theater named after her in her lifetime. Nazimova was a landlady, an artist, a poet—an egregious poet—the godmother of Nancy Reagan, the aunt of Val Lewton. The gay community claims her as an early warrioress. There was a rumor, no doubt vindictive, that Nazimova's film production of Salome refused to hire heterosexuals.
Nazimova's signature can be found all over the modern-dress 1921 Camille, which shows (July 14 at 5:45pm) at this year's 12th Annual San Francisco Silent Film Festival. Literally all over it—on the title cards, with the cursive flourishes of a brewer's name on a beer can. Rudolph Valentino plays her Armand; despite the flash of the cruel upper lip, most often he looks like inserts of a still photo of himself. As for the presence herself—Nazimova, slender but big-footed, enters, crowned with what she must have thought was a turbulent stratocumulus of hair. And what transpires resembles Joan Cusack playing Helena Bonham Carter in a comedy skit. The set designs, by Nazimova's protégé (or girlfriend) Natacha Rambova, prove the most arresting part. The lady's flat has an arched bedroom window with translucent curtains so that anyone who wishes can look in on her boudoir primping. The picture window reveals a snowstorm outside. The great Nazimova is just about outacted by a flurry.
Also advanced to modern dress is the first action hero, in 1915's Maciste (July 14 at 3:30pm), the sequel to the primal sword-and-sandal epic, Cabiria. Bartolomeo Pagano stars in the title role as this modern Hercules. Free from the laws of time and space, the Italian idol Maciste turned up in modern Rome, ancient Carthage, Hell and elsewhere over the course of some 60 years and 30 movies. Less boisterous work can be seen the festival's highlight, 1927's The Student Prince in Old Heidelberg (July 13 at 7pm), by Ernst Lubitsch. It's easy to see why this pretty tale about fleeting youth, lager, schlagers and flowering trees was a perennial. Ramon Novarro and Norma Shearer co-star, equally breathless as the Germanic prince and the innkeeper's daughter. Lubitsch, who proposes that all true love is as much a meeting of the bodies as a meeting of minds, turns this story bittersweet in the finale. As in Anthony Asquith's very modern thriller, 1929's A Cottage on Dartmoor (July 15 at 6pm), where the first seven minutes go past without a single title card, the Lubitsch picture demonstrates how far telling a story in pictures got before the catastrophe of sound. With more programs than ever, this weekend's festival is becoming one of the world's most important rallies for lovers of silent film. Two Sunday programs focus on new rediscoveries and refurbishments, and it all unfolds at one of the few silent-era palaces still standing, San Francisco's Castro Theatre. Here's a chance to see how grand, how gorgeous—and occasionally, how dreadfully swank—silent film could be.

The San Francisco Silent Film Festival takes place July 13–15 at the Castro Theatre in San Francisco. See www.silentfilm.org for details.
Send a letter to the editor about this story.