July 11-17, 2007
home | metro silicon valley index | the arts | books | review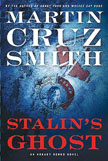 Stalin's Ghost
(By Martin Cruz Smith; Simon & Schuster; 332 pages; $26.95 cloth)

While Putin runs rings around Bush at the lobster summit, back in Russia, Stalin enjoys a renaissance. According to novelist Martin Cruz Smith, the old dictator's approval rating stands at about 53 percent. That dismal fact kick-starts Smith's Stalin's Ghost, the sixth in his series (beginning with Gorky Park) of mystery novels about Moscow investigator Arkady Renko. In the restive new Russia, subway passengers report seeing a benign vision of Stalin waving at them. The authorities are embarrassed; the resurgent Communist Party sniffs an opportunity: "Maybe you can copyright him, like Coca-Cola." In pursuit of this mystery, Arkady runs afoul of some vicious Chechnya war vets and is shuffled off to the small town of Tver. There he uncovers the many ghosts of Stalin: Soviet soldiers massacred during World War II. As treasure hunters and nationalists race to dig up the bones of the past, Arkady tries to hold together his own skeletal existence. His girlfriend, Eva, is unfaithful, and his surrogate son is a feral chess genius who lives on the streets. Also re-emerging, ghostlike, into Renko's thoughts is his father, a Soviet general with blood on his hands. Renko absorbs the craziness (and a lot of physical punishment) with sardonic aplomb. As his straying lover notes, "In spite of everything, at heart you're an optimist." The plot knots up with diversions, but the real pleasure lies in Smith's observations about the state of modern Russian society: "Arkady hadn't seen such a concentration of Homo Sovieticus for years. Supposedly extinct, here they were unchanged, with their bad suits, dull eyes, self-important frowns."
Review by Michael S. Gant
Send a letter to the editor about this story.