July 12-18, 2006
home | the papers | metro silicon valley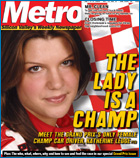 Katherine Legge
Metro talks to the Grand Prix racer about girl horsepower, being a role model and being the only driver to pass another car on the San Jose course.
San Jose Grand Prix
Do you want to see the action, or do you really want to feel it? Whatever kind of Grand Prix watcher you are, we have the spot for you.
Why we watch the San Jose Grand Prix
Photographs from last year's Grand Prix by Felipe Buitrago.

News: Wage War
Silicon Valley is at the center of the push for a higher minimum wage statewide.
The Fly: 07.12.06
In a time when San Jose's government is at its dirtiest, can famously straight-arrow Chuck Reed stay clean?

Silicon Alleys: Mess Appeal
Gary Singh rummages through the various items lying around his cubicle.
Technology News: Verizon's Tubes
Verizon is covertly preparing customers for an ugly new world without netword neutrality.
Car News: Sugar Beets and Ethanol
A short primer on why using sugar beets instead of GMO corn for fuel just ain't gonna happen.
Sports News: World Cup
Italy bests France for the Cup.

Movie Review: 'A Scanner Darkly'
Keanu Reeves spies on himself in Philip K. Dick's salute to paranoia.
Movie Review: 'The War Tapes'
A new doc gives a soldier's perspective on the fighting in Iraq.
Movie Festival Preview: San Francisco Silent Film Festival
Features by Janet Gaynor, Louise Brooks and Harry Carey come to the Castro Theatre.
Cult Leader: Philip K. Dick Movies
Dick Tracing: In time for 'A Scanner Darkly,' a look back at Philip K. Dick movies.
Movie Review: This Week's Revivals
Snark attack: 'Double Indemnity,' 'Showgirls' and more.

MORE MOVIE REVIEWS

MOVIE TIMES

Music Preview: Slayer
The only metal group in the world with complete immunity.
Music Preview: Carmel Bach Festival and Midsummer Mozart
The summer music festival season begins.
Music Preview: Metro's Music in the Park 2006
Free Thursday concerts all summer long.
Musician Obit: Syd Barrett
Richard von Busack remembers the Pink Floyd co-founder.

MORE MUSIC AND NIGHTLIFE

MUSIC AND CLUBS LISTINGS

MUSIC AND NIGHTLIFE CALENDAR PICKS

Restaurant Review: The Dog House
Downtown San Jose's newest link source brings both classic and inventive links.
Live Feed: In Praise of Fallen Silicon Valley Spots
Stett Holbrook's requiem for three top neighborhood spots.
5 Things to Love: Good Pizzerias
Pizza is so simple. Dough. Some cheese. A little sauce, a few toppings and some quality time in the oven. But not every place does it well. We've found five that do.

BOOK A RESTAURANT RESERVATION

FIND A RESTAURANT REVIEW

Stage Preview: 'Jesus Christ Superstar'
City Lights Theater Company pulls out all the stops for its summer megaproduction.
Book Preview: 'Sticker Nation: The Big Book of Subversive Stickers Volume 1'
Srini Kumar promotes radical theory and goofiness one sticker at a time.
Visual Arts News: San Jose Institute of Contemporary Art
Just in time for ZeroOne, the SJICA moves to a permanent space downtown.

Letters to the Editor
July 12-18, 2006.