07.15.09
home | metro silicon valley index | the arts | stage | review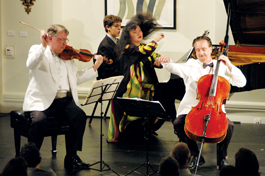 GALE FORCE: David Finckel (right), Wu Han and Philip Setzer set a sizzling pace at [email protected]
Classical Heat Wave
The summer festival season kicks off with [email protected] and Midsummer Mozart
By Scott MacClelland
HAVING NOW wrapped up a first South American tour, the Emerson String Quartet's cellist, David Finckel, spoke with us a little while ago by phone from Chile about the upcoming seventh season of [email protected], the fabulous chamber music festival he co-directs with his pianist-wife Wu Han that opens this weekend. Asked to describe Santiago at the beginning of winter, he noted its Mediterranean climate, adding that it is "surrounded by snow-covered mountains—very dramatic!"
"Being Mendelssohn" is the festival's theme, in this bicentennial of the prodigiously gifted German composer's birth, with all of his string quartets to be played by the Pacifica Quartet. While this is their debut at [email protected], the quartet have maintained a long relationship and several collaborations with Finckel and Wu Han. "They made a landmark series of recordings of the Mendelssohn," says Finckel of the Grammy- and Avery Fisher Career Grant–winning ensemble, adding, with avuncular pride, "We watched them grow up."
Numerous other Mendelssohn works are included, not least the two great pianos trios for which Finckel and Emerson Quartet violinist Eugene Drucker will be joined by legendary pianist Menahem Pressler. "Being artistic director comes with certain perks," explains Finckel. "I grabbed the opportunity to play the two trios with Pressler; how many cellists in the world can say that!" The last original member of the Beaux Arts Trio, Pressler, now 85, disbanded the group last summer, after a five-decade career. "I heard their last concert," says Finckel, commenting on Pressler's irrepressible personality, "It was as though he was making his debut, so animated, so hungry."
While Bach, Beethoven, Schubert, Schumann and Brahms figure prominently, Finckel also glows over Pierre Jalbert, "a favorite contemporary." New Hampshire born, with Quebec roots and now in his early 40s, Jalbert was brought to Finckel and Wu Han's attention by Jeffrey Kahane, acclaimed pianist and conductor of the Los Angeles Chamber Orchestra (and [email protected] guest artist).
"We've played and programmed his works at Lincoln Center," says Finckel, who, with Wu Han, co-directs the Chamber Music Society there. The award-winning Jalbert studied at the Curtis Institute and later with composer George Crumb. His Piano Trio of 1998 is among the festival's 11 concert programs (several with repeat performances), 13 prelude performances, five young performers concerts and various multimedia and lecture programs and master classes.
Many of the festival's guest artists are eminent chamber music specialists. Oboist William Bennett, cellist Colin Carr, violinist Jorja Fleezanis, clarinetist Anthony McGill, violist Paul Neubauer, pianist Gilbert Kalish and flutist Carol Wincenc are some among a stellar cast of instrumentalists, with no small number of them welcome veterans of previous seasons. Also returning is the St. Lawrence String Quartet, which among other duties will join the Pacifica Quartet for Mendelssohn's adolescent masterpiece, the Octet in E-flat of 1825.
Much of the concert fare is drawn from the familiar chamber repertoire but with rare additions, like Louis Spohr's Nonet in F for Strings, Winds and Piano (1813), Schubert's Violin Sonata in A (1817) and Ligeti's Six Bagatelles for Wind Quintet (1953).
When you can't get enough great music, pounce first on conductor George Cleve's Midsummer Mozart, opening Thursday in Santa Clara (with performances in San Francisco, Sonoma and Berkeley over the weekend). Yong Jean and Yong Sun Park are featured in the delightful Concerto for Two Pianos in E-flat, while Maria Tamburrino plays the Flute Concerto in G. The overture La Clemenza di Tito and Symphony no. 35 (Haffner) complete the menu.
The following week's program (July 23 at the California Theatre in San Jose) returns soloist Seymour Lipkin for the Piano Concerto no. 19 in F, while David Sprung takes the spotlight in the Horn Concerto no. 3 in E-flat. Opening the program is the youthfully exuberant Symphony no. 29 in A, and Cleve will make sure the awesome Symphony no. 41 in C (Jupiter) will bring the festival to a thrilling conclusion.
[email protected] runs July 17–Aug. 8 in Menlo Park, Atherton and Palo Alto. See www.musicatmenlo.org for details.
MIDSUMMER MOZART runs July 16–26, with concerts July 16 at 8pm at Mission Santa Clara and July 23 at 8pm at the California Theatre in San Jose. See www.midsummermozart.org for details.
Send a letter to the editor about this story.