07.15.09
home | metro silicon valley index | the arts | visual arts | review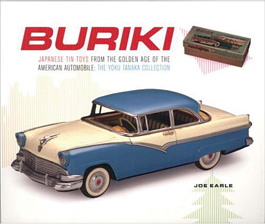 Tin Memories
By Michael S. Gant
THE OTHER DAY, I watched in awe as a restored scarlet-red T-Bird from the late '50s cruised by. In little more than 50 years, the chromed, finned symbol of American manufacturing might has rolled into near irrelevancy, buffeted by gas prices, foreign competition and domestic complacency. Hybrids are the way of the future, but will they ever look like a vintage American land yacht again? Perhaps it is fitting that one of the best ways to hold on to the memory is through miniaturization. In the 1940s, '50s and '60s, the Japanese toy industry created marvelous tinplate models of American cars. They are now as desirable (and in some cases, as expensive) as the real thing. Joe Earle's Buriki: Japanese Tin Toys From the Golden Age of the American Automobile illustrates some of the best examples of Japanese "buriki," or tinplate, from the shelves of collector Yoku Yanaka.The Japanese toy industry, a world player between the wars, was restarted soon after the American occupation, when toy designer Matsuzo Kosuge made a crude model of an American jeep. The toy immediately captured the attention of Japanese children, who were entranced by the GIs in their ubiquitous jeeps. In a few years, Japanese toys became more detailed, larger and feature-laden. In particular, the handsome, gleaming Cadillac sedans produced by Marusan set a high standard, with meticulously applied accents. They quickly outsold American toy cars, in a process that, as Earle points out, eerily predicted the time, a few decades on, when real Japanese cars would start to overtake their American counterparts.
The lovingly photographed examples are the stuff that dreams are made off, including a motorized, cloud-gray Cadillac convertible, a fulsome 13 inches long; a ruby-red Buick two-seater; a shockingly blue Chrysler Windsor Deluxe with tin-litho chauffeur; a somewhat demure tan and oyster-white two-tone Lincoln Capri sedan; a Ford Fairlane hauling a blue and red streamlined "House Trailer," complete with striped awning and circular windows—the 1958 Edsel Citation in orange with a pale celadon roof looks better than the real-life lemon. A few spiffy race cars and some fanciful space rockets are also included, but it is the cars—so tangible, so near and yet now so impossible—that are the most evocative. There is even a perfect red Thunderbird from 1956, every bit the equal of the original.
BURIKI: JAPANESE TIN TOYS FROM THE GOLDEN AGE OF THE AMERICAN AUTOMOBILE; by Joe Earle; Japan Society/Yale University Press; 96 pages; $19.95 paperback
Send a letter to the editor about this story.