07.15.09
home | metro silicon valley index | the arts | visual arts | review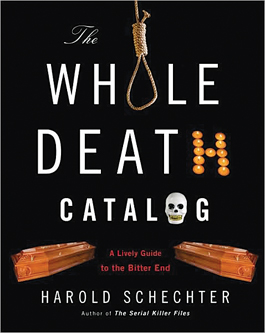 Reading Death
By Richard von Busack
THE UNCANNILY GOOD Australian writer Hal Porter—a strange morph of Dylan Thomas and Vincent Price—once observed that death is screamingly funny beyond words. Somehow Harold Schechter, a Brooklyn polymath who teaches English lit at CUNY, found the words. The Whole Death Catalog, which looks like a paperback nonbook, turns out to be just what it claims: a well-done study of mortality, with a wealth of citations. Schechter goes beyond pop, just as he goes beyond the obvious well-worn classics like Jessica Mitford's The American Way of Death. Take mummification, for just one aspect of this study: Schechter digs up Herodotus' own account of the ancient Egyptian funeral business and gives a guide to the do-it-yourself mummifier ("Leave heart in place to be weighed by Osiris in the afterlife"). For good measure, he discusses Utah resident Summum Bonum Amon Ra (nee Claude "Corky" Nowell), who offers the demised a Tut-like send off, complete with the linen wrapping. At one moment, Schechter describes Kübler-Ross' stages, medieval poet William Dunbar, Antigone and Claudio from Measure for Measure mulling the terror of death; at another, he gives us good directions to the last resting place of the deathless stooge Curly Howard. (Imagine my happiness, too, when I learned that I had already visited four of the "Ten Cemeteries to See Before You Die.") Other topics include the London Times obituary writer who observed that "convivial" is the mot juste to use when describing a dead habitual drunkard. While reiterating the funeral industry's underhanded attempts to get 'em while they're weeping and weak, the author makes the comforting assertion that the Tall Man's mortuary in the Phantasm series "is not an accurate depiction of the average American funeral home."
The Whole Death Catalog: A Lively Guide to the Bitter End; by Harold Schechter; Ballantine Books; 320 pages; $18 paperback.
Send a letter to the editor about this story.