07.08.09
home | metro silicon valley index | silicon valley restaurants | review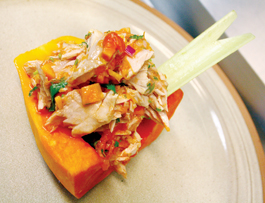 Photograph by Felipe Buitrago
FISH STORY: The ceviche at Casa de Cobre features line-caught white seabass over papaya.
Cobre Challenge
Saratoga's new-style Casa de Cobre confounds diners' expectations of Mexican food
By Stett Holbrook
SARATOGA'S Casa de Cobre restaurant has to walk a fine line. The restaurant specializes in the food from chef Marcelino Hernandez Perez's hometown in Santa Clara del Cobre in the northwestern Mexican state of Michoacan. Much of the menu is likely to challenge perceptions about Mexican food, because it offers food seldom found in Silicon Valley as well as familiar items prepared in unfamiliar but traditional ways. Casa de Cobre's challenge is to satisfy diners' expectations about Mexican food while at the same time going beyond them. The restaurant generally succeeds. Deliciously.
Mexican food is so ingrained in U.S. culture that everyone is likely to have an opinion about what's good, what's bad and what they like best. But truth be told, what we've been eating isn't Mexican food. It's Mexican-American food. (See Cover Story on page 14.)Tacos, nachos, burritos and the other usual suspects of Mexican-American food are fine by me, but this limited menu is a poor representation of the breadth and depth of what Mexican food has to offer. Casa de Cobre is one of a small but growing number of Mexican restaurants in Silicon Valley that dare to offer diners something different.
The restaurant's owners are the same as the Basin's next door. "After 10 years at the Basin, we really wanted to offer a new flavor to this town," says Andrew Welch, co-owner of both restaurants. "I knew that it was going to be a tough sell, because we're used to supercheesy enchiladas and sour cream. ... There's going to be some explaining to do, but you hope [customers] fall in love with it and say, 'Hey, this is Mexican food.'"
It is Mexican food, and it is good Mexican food, too. Mexican restaurants have been slow to make use of organic ingredients, but Casa de Cobre serves them whenever possible. Meats are hormone-free and seafood is from sustainable sources, another rarity for Mexican restaurants.
In some cases, the restaurant takes familiar dishes and elevates them to new heights—like the taquitos. At $3.75 each, the little tacos are a bit expensive, but when you consider that the thick tortillas are made to order and topped with high-quality ingredients like sweet-edged, slow-braised bacon, meaty mushroom and leeks and, my favorite, the tender braised chivo (goat), it's worth paying a bit more. The shrimp cocktail ($13) is another standard, but at Casa de Cobre the rich, shrimp-flavored tomato sauce is made to order and loaded with avocado, bits of jalapeņo, celery and fat, fresh shrimp. It's a filling and rich treat.
North of the border, enchiladas are slathered in a thick sauce and bubbling cheddar cheese, but in Mexico it's a much lighter dish. Casa de Cobre's enchilada Michoacana fries tortillas in a thin but flavorful guajillo chile sauce and fills them with roasted carrots and potatoes and tops them with a dusting of Mexican cheese. The chile rellenos de puerco ($11) is another of my favorites and a specialty of Santa Clara del Cobre. The poblano chiles are filled with braised pork and dried fruit and topped with a roasted pecan cream sauce. It's a spicy, sweet and savory all at once.
On one of my visits, they were serving a special roasted chicken also from the chef's hometown. Marinated for 24 hours in a guajillo chile sauce, the dish was wonderfully tender and juicy, but what I loved best was the crispy, flavor-infused skin. Michoacan is known for its carnitas (pork fried in its own fat), and here the suckling pig carnitas ($17) is really memorable. While I loved the pork beans served with the carnitas, I would prefer them on the side instead of served underneath.
The standout dish of my two visits was the entomatado ($18), a slow-simmered beef stew made with chipotle, tomatillos, onions, tomatoes and chile de arbol. The smoky flavor of the chipotle enveloped the dish but still allowed the other flavors to come through. Spooned into a fresh corn tortilla, it was just superb.
Most dishes are served a la carte. Order the excellent frijoles de casa ($5) and arroz de casa ($4) on the side to taste how different these standard accompaniments can be. The rich and saucy beans are simmered with onions, chiles and spices and meaty bits of pork. The rice is made with carrots, tomato and potatoes.
In what will probably seem like a grave injustice, chips and salsa aren't served as freebies. They aren't served in Mexico, and for any restaurant that strives to be traditionally Mexican I'd say do away with them altogether. But I bet 99 percent of diners would have a hard time imagining Mexican food without them. So, they're made to order and served with pico de gallo for $4.
Service is friendly, knowledgeable and enthusiastic. Servers know the food well and seem to love talking about it. The restaurant has a full bar, but a rather limited selection of tequila. There's also a short but well-chosen wine list. Desserts like the churros with hot chocolate and tres leches cake (both $7) will satisfy sweet cravings, but they're not as strong as the rest of the menu.
Mexican-American food is here to stay, but Casa de Cobre makes a strong case for Mexican-Mexican food.
---
Casa de Cobre
Address: 14560 Big Basin Way, Saratoga.
Phone: 408.867.1639.
Hours: Tue–Fri and Sun 5pm to close; Sat 11am–close.
Cuisine: Mexican.
Price Range: Entrees $10–$29.
Web: casadecobre.com.
Send a letter to the editor about this story.