07.15.09
home | metro silicon valley index | movies | current reviews | dvd review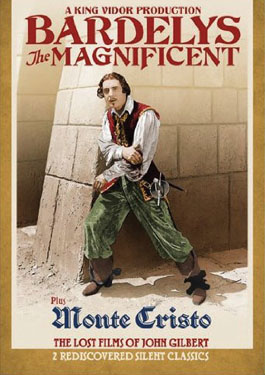 Swashbuckler
A new Flicker Alley DVD resurrects two silent-film adventures by tragic leading man John Gilbert
By Richard von Busack
JOHN GILBERT, one of the first megastars, Garbo's leading man and "the Great Lover," was also one of the first casualties of film; his demise, in 1936, is still a mystery. The actor was the model for the silent-film star destroyed by sound, as in Singin' in the Rain and What Price Hollywood?. Several reasons have been given for his failure: his drinking, a squeaky or prissy voice, a broken heart cracked by Garbo herself. ("She wouldn't sleep with me last night," is what Gilbert was reportedly saying aloud as he wandered forlorn on some set.) Flicker Alley's new DVD release of Bardleys the Magnificent/Monte Cristo includes an interview with Gilbert's daughter and autobiographer Leatrice Gilbert Fountain; she adds to the mystery by saying that it was Gilbert's last lover, Marlene Dietrich, who was too much for him. By contrast, critic David Thomson, positively not a Gilbert fan, notes a comment by King Vidor. In the opinion of Gilbert's most talented director, it was the qualities of sound film itself that put Gilbert out of business: "The literal content of his scenes, which in silent films had been imagined, was too intense to be put into spoken word." That intensity can look stale and petrified sometimes, if Gilbert is in a lesser movie. The package here, a pair of swashbucklers, shows Gilbert right in his comfort zone as a matinee idol. The big star is an appealing, ironical figure in the previously lost film Bardleys the Magnificent (1926). It's King Vidor's romance of the Fronde, based on a novel by Rafael Sabatini (Scaramouche, The Sea Hawk, Captain Blood, etc). Gilbert stars as that kiss-stealing rogue, the Marquis de Bardleys. The beguiling cavalier gets rooked into courting a virtuous woman—not many such were around in the court of Louis XIII, this film claims. Handily assuming a dead man's identity, Bardleys ends up condemned to death: "If they catch me, I'll lose my head, and my head is too good to lose." The famous boat scene, shot by William Daniels, under the branches of trailing weeping willows with a recumbent Eleanor Boardman (as the euphoniously named Roxalanne de Lavedan) in the keel, is indispensable silent-screen romance. If Gilbert's terrific escape from the gallows runs a second to Douglas Fairbanks' athleticism, it's a very close second. Twin soundtrack options include a solo piano soundtrack by Antonio Coppola and the Mont Alto Picture Orchestra.
The co-bill is less impressive, but it has its points. There may not be such a thing as a really bad film version of The Count of Monte Cristo (1922); it's a story that looks out for itself. The proscenium-arch-heavy tale, under Emmett J. Flynn's direction, stars Gilbert as the revenger. The 1922 film is scratchy and jumpy in the only known version from the Czech archives. While Gilbert acquits himself as Edmond Dantes, this movie has a highly distinguished actor of villains, Robert McKim—like Gilbert, a man who died young, but not before playing the evil governor in the Fairbanks The Mark of Zorro. The re-evaluation of Gilbert needs to continue. How much truth was there—how much flattery and how much hearsay?—in what Ms. Fountain says David O. Selznick himself said: "We buried the man who should have played Rhett Butler."
Bardleys the Magnificent/Monte Cristo; two discs; Flicker Alley; $39.95
Send a letter to the editor about this story.