07.15.09
home | metro silicon valley index | columns | live feed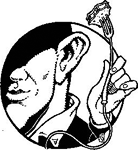 More Meat Matters
By Stett Holbrook
RECENTLY in this column, I wrote about my changing views on eating meat ("My Beef With Meat," June 24). To paraphrase myself, red meat exacts such a heavy toll on the environment in the form of climate-warming greenhouse gas emissions that I now eat as little of it as possible.
But in that same issue, I also wrote a restaurant review praising the house-made pastrami at the Kitchen Table in Mountain View. My editor wondered if publishing the column and review in the same issue might cause a bit of cognitive dissonance in the minds of readers. It did.
One reader wrote me and said he was confused by my apparently incompatible viewpoints: "I can't understand how in last week's issue you could praise pastrami at the Kitchen Table to the hilt—and at the same time write the "My Beef With Meat" column," he wrote. "Yes, you advocate eating less meat, not no meat, something I agree with. However it seems rather odd to take both of these positions because most of the reviews are for places that cater to meat eaters."
OK, so I have a little explaining to do.
As a critic, I do my best to leave ethical questions about meat at the door. I judge a restaurant and its food on a qualitative level, not a moral one. I routinely eat and write favorably about foods I wouldn't eat on my own time. I don't care for apple-based desserts, but I can appreciate a good apple tart when I taste one. Similarly, while I don't eat beef at home that doesn't stop me from singing the praises of a well-aged steak expertly prepared.
My stomach has a split personality. On the job, I eat everything. To omit certain foods in the course of my reviews would be unfair to readers and the restaurants I review. But at home, I am mostly vegetarian but do eat a fish and the occasional chicken. If there's a conflict between my personal views as a beef critic and professional duties as a restaurant critic, it's one I strive to keep to myself.
And just to be clear: I didn't advocate going without meat, just eating less of it. According to a 2008 Carnegie Mellon University analysis, the production of beef is 150 percent more greenhouse-gas-intensive than chicken, fish or vegetables. Shifting less than one day per week's worth of calories from red meat and dairy products to chicken, fish, eggs or vegetables achieves more greenhouse-gas reduction than buying all locally sourced food.
So you can eat your steak and have a cleaner environment, too, as long as you don't eat meat everyday. But now, duty calls. I'm off to Billy's Beef Bonanza for dinner.
Send a letter to the editor about this story.