07.15.09
home | metro silicon valley index | movies | current reviews | film review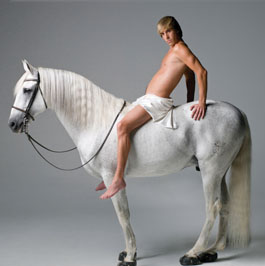 PALE HORSE, PALE RIDER: Sacha Baron Cohen gets on his high horse for 'Brüno'
Fame Whore
A film in shining bad taste: that's Brüno.
By Richard von Busack
SACHA BARON COHEN, late of Borat, plays an extra-tall, tousled-hair Aubrey Beardsley imp in Brüno. He purports to be the one-named Brüno, Austrian star of Funkyzeit, the most popular fashion show in the German-speaking lands ("except Germany"). He is a past-his-prime, mid-1990s club kid, whose claim to fame was a tryst with Rob Pilatus of Milli Vanilli. (Bruno's séance with the ghost of the dead "singer" is the kind of humor that staggers you too much to laugh.) Fired from his show, Brüno seeks greater fame. Run out of L.A. after a fateful celebrity interview with Paula Abdul, he goes first to Jordan to try to bring peace. He faces the problems of the Middle East commentator who confuses the words "Hamas" and "hummus." On the basis of the fame of three big movie stars whose heterosexuality no one would like to bet their lives on, Brüno decides he must be converted to straightness in order to succeed.
The film's beguiling bad taste includes the hero trying to tackle some of Rev. Phelps' fag-hating flock, while naked and draped with more chains than Marley's Ghost. Cohen's choice dog-German is classic even by this standard comic gold mine: "arseschwitz," "arschenhower" and "schtinker" are all terms for the same much-flaunted part of Brüno's anatomy.
The finale is the sweetest spot. Cohen does a mass chumping of a Ft. Smith, Ark., auditorium to the music of Celine Dion's biggest hit.
This dangerous-looking scene gets into the real dirt of anti-gay prejudice. Cohen's drastic comedy insists that all the worst fears of gay haters are true and screws that point down. It argues that gay people are into flagrantly bizarre sexual practices—practices that that surpass even an Internet surfer's pretty good knowledge of what his fellow earthlings get up to. It insists that gay people will try to recruit straight people relentlessly, and that they'll tease and seduce even the violently uninterested.
Brüno, then, is not a plea for understanding, but a shout of rage. There can't be anything playful in this urge to incite fury or to be hounded out into the night by security guards and everyday joe-sixpacks alike. Watching Cohen in his disguise is like reading H.L. Mencken—amusement at the rude wit is followed by nauseated despair at universal gullibility. Even Congressman Ron Paul, whom so many had set their hopes on, swallows Brüno's bait like a starved crappie. But the congressman looks sad, shabby and gray as he falls for it; there's little comedy in an aged congressman sitting on the edge of a hotel bed at the behest of someone he thinks will help his career. One can be slightly cheered by less well-known citizens who must—you pray—have either been in on the joke or had enough good humor to play dumb for this amazing Technicolor Teutonic faun.

BRÜNO (R; 83 min.), directed by Larry Charles, written by Sacha Baron Cohen, Anthony Hines, et al., photographed by Anthony Hardwick and Wolfgang Held and starring Cohen, plays valleywide.
Send a letter to the editor about this story.