07.15.09
home | metro silicon valley index | movies | current reviews | film review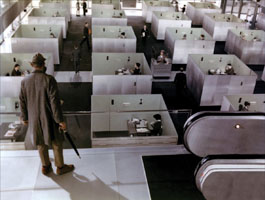 THINKING OUTSIDE THE CUBICLE: Jacques Tati confronts the modern office hive in his comedy 'Playtime.'
Tati Time
The great French director put his gags on the really big screen in 1967's 'Playtime'
By Richard von Busack
GOLIATH-SIZE film images are as old as cinema itself. Raoul Grimoin-Samson's Cinéorama (not to be confused with Cinerama) was patented in 1897. For three days at the 1900 Paris Exposition, the inventor screened a travelogue caught by 10 linked 70 mm cameras and projected onto a 330-by-33-foot screen. Author Kenneth MacGowan, who unearthed this tidbit in his book Behind the Screen, was witty enough to reference Alexander Pope's indispensable An Essay on Criticism: "Some prefer an art in which 'no monstrous height or breadth, or length, appear.'" One mentions the forgotten, adventurous Frenchman for a purpose: the California Theatre's summer festival, presented by the Stanford Theatre and Team San Jose, showcases some fine examples of 70 mm entertainment. Despite the vistas in The Sound of Music (which kicked off the series), the New York street scenes in West Side Story (Aug. 14–15), the deserts in Lawrence of Arabia (Aug. 21–22) or the Roman/Egyptian excesses of 1963's Cleopatra (July 30–Aug. 1)—despite all these, the real artistic triumph of 70 mm film is the work of a lesser-known French comedian. Jacques Tati's 1967 masterpiece, Playtime, was a box-office failure not seen in its proper format in the United States until the 1990s. Playtime stars its director, the last of the (almost) silent comics, making his way through a babble of half-heard talk credited to Art Buchwald—English dialogue like "I can't tell if I'm on the Right Bank or the Left Bank." Since his early hit Mr. Hulot's Holiday, Tati was the comedy flaneur: a man whose business in life was to walk around watching stuff going on.
In Playtime, Tati, a polite, correct, long-shanked figure tilted a 45-degree angle to the rest of us, Tati prowls an enormous dystopic Paris set. It's as cartoony as Gotham but with the droll tone of a New Yorker scribble. The many sound effects are like aesthetic versions of a Three Stooges soundscape: electric barks, beeps, chirps, blats and poots march the visitor around a Paris imploding with modernist high-rise ugliness. The armies of tourists (sweet, bewildered and misdirected) only see reflections of the famed monuments when glass doors open or windows shut.
The film's longest sequence takes place at a half-finished restaurant, melting down under the burden of its own chic. Here, the jumbo screen turns out to be a triumph of comic democracy: not just the format for pretty landscapes. Tati presents a large and living canvas of absolute dining-establishment failure: a riot of peculiar food, bad temperature fluctuations, weird music, wet paint and undried glue. This Paris is a familiar place that we recognize in all aggravating cities: alienating office-building lobbies in which visitors are trapped like prisoners in glass booths. By day, there's automobile gridlock; by night, there's retreat to uncomfortable nightspots. Here is a city that can only be redeemed by the human urge for the comedic—and it is. In Playtime, where there is snobby fine cuisine, people make a cozy cafe. Where there is a traffic snarl, they create a carousel. Where there is a grim airport, Tati sees starlight.

PLAYTIME shows Friday–Saturday (July 17–18) at 7pm at the California Theatre in San Jose.
Send a letter to the editor about this story.