07.15.09
home | metro silicon valley index | movies | current reviews | film review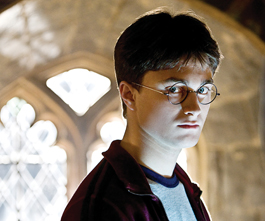 OLDER BUT WISER: Daniel Radcliffe continues to grow up before our eyes in the newest 'Harry Potter' installment.
Spellbound
The new 'Harry Potter' casts a princely spell
By Richard von Busack
MONONUCLEOSIS protectionus! Such is the spell the students of Hogwarts need in this sixth go-round of the Harry Potter franchise, as an epidemic of snoggery leaves the student body with bruised feelings and chapped lips. He Who Is Not to Be Named is afoot but offscreen, hatching plots. Even the Muggles are starting to notice the war between good and evil, as in Harry Potter and the Half-Blood Prince's bracing opening of a spectral terrorist attack on London. Hogwarts' decay is showing, against lowering weather that looks like January in Iceland. The freezing cold must be responsible for the entropic diction of my personal hero, Severus Snape. His contempt for Harry (Daniel Radcliffe) is reaching absolute zero, and Alan Rickman shows this quality by talking as slowly as a character in an early sound film. The new potions professor, Horace Slughorn (Jim Broadbent), holds in his memory a key conversation with the young Tom Riddle, later to become the Hitler of the world of magic. He refuses to divulge what he learned, either out of shame or pride. Broadbent, very good here, is highly covert, while trying to give an impression of jolliness and openness. Dumbledore (Michael Gambon), the magic-world's Churchill, needs to know what Slughorn knows, but the world's greatest wizard is starting to decay.After the series' all-time high of Harry Potter and the Prisoner of Azkaban, this is the best Potter. The wartime view of England—the row houses and twisted Whitechapel-like brick alleys—is comfortingly like film noir. Some will find this new Harry Potter a little lacking in CGI action, compared to the emphasis on shifting relationships. Like James Bond, Harry Potter isn't an intrinsically interesting figure. It's the world he inhabits that makes him fascinating. The clean, uncomplicated hero needed a little depth, and he gets some here, through an increased social life and some comedy.The main trio take up their spaces well; they don't have to do anything to be amusing. Young Potter is now comfy enough with being called the Chosen One that he can joke about it (even if Emma Watson's Hermoine gives him an whack on the head when he does). Rupert Grint is show-stealing in his perennial role as ginger-nut comedy relief, in this instance displaying the awkwardness of a man riding a broomstick. The college-level carryings on—the sex and the drugs, respectably disguised as snogging and potion-imbibing—are a welcome relief from previous tales of earnest berobed private-school kids. In this episode we get a sense of fresh, unrehearsed dialogue. There are, as always, characters one wants to know more about; Helena Bonham Carter's evil Bellatrix and Evanna Lynch's Luna Lovegood are but tiny-portioned side orders. Luna may be a weirdette, but she is by a long chalk the most interesting girl in that school, and sometimes one feels Harry is blind. The battles aren't very thrilling. Director David Yates' swamp fight uses conventional too-fast-to-see horror-movie cutting. I don't go for the light show; what draws my interest is the parade of British thespians (Maggie Smith is holding up nicely) as well as the endless Gothic pile of Hogwarts with its innumerable secret rooms and half-forgotten magics—and in the dark, the wand-carrying wizards on patrol, like gunmen waiting for an intruder.

HARRY POTTER AND THE HALF-BLOOD PRINCE (PG; 153 min.), directed by David Yates, written by Steve Koves, based on the novel by J.K. Rowling, photographed by Bruno Delbonnel and starring Daniel Radcliffe, plays valleywide.
Send a letter to the editor about this story.