07.15.09
home | metro silicon valley index | music & nightlife | band review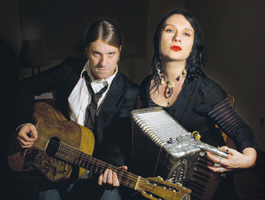 MYSTERY SOUNDS: Artemesia Black's Sabine Heusler and Kenny Schick conjure up ghostly sounds.
Ghost Stories
Mountain View's Artemesia Black summon truly spirited music
By Steve Palopoli
THE duo behind Artemesia Black are as fascinated by the Winchester Mystery House as everybody else.
"I actually wanted to get a job there when I first moved here," says Sabine Heusler, an Australian transplant who settled in the South Bay last year.
Meanwhile, Kenny Schick, who grew up in Mountain View, has been through it plenty of times.
"I've always fantasized about, you know, drifting off from the pack, and then you're on your own," he says.
The difference is that Heusler and Schick don't just want to tour the Winchester Mystery House, or man the souvenir shop. They want to play there. It's kind of a goal, even. In fact, they'd like to take their spooky-pretty acoustic songs—"alternative gothic swamp lullabies," by their own reckoning—on a tour of historic houses across the country. It's an idea that came up one day on a bike ride to Mountain View's Rengstorff House, which beginning in the 1960s began to get a reputation for freaky supernatural activity.
"I said, 'Wouldn't this be a great place to do a gig, and have people come dressed up?'" remembers Schick. The Historic House Fantasy Tour was born.
"Sabine's music is perfect for it, too," he says, "because a lot of these houses come with ghost stories."
And that's exactly what Heusler writes for Artemesia Black—ghost stories. Not just for an occasional song here or there, but all of them.
"Really, the whole thing is about ghosts," says Heusler, "and people not being forgotten. I think my take on the whole ghost thing is that they're just people. But a lot of people don't realize the songs are about ghosts.
"Her lyrics are cryptic enough that you might not know," says Schick.
Maybe not, but clues are likely to jump out to even the most casual listener. "You lost your head back in Spain, you blame me," Heusler sings on "Rosie," from Artemesia Black's recent album. Or on "Maryjanes": "They say I fell, they say I drowned or something."
For a woman who writes and sings ghost stories, what happens to the normally reserved Heusler onstage couldn't be more apt. "Her first big show, I was like 'What has gotten into her?'" says Schick.
"I think I get possessed, actually," she admits. "When I get onstage, I become someone else."
It's taken a while for her to get to this point, though. For years, Heusler wrote songs only for herself, and dreaded even telling anyone about their existence. She met Schick over the Internet in 2006, while he was planning a trip to Austrailia. After months of corresponding by email—including some marathon 10-hour writing sessions—she came clean about her musical output, and sent him a tape—as in, an actual cassette. Which wasn't easy for her, since she knew that besides his work as a solo artist he'd played in dozens of bands here, including the somewhat legendary San Jose band Dot 3, and other popular Bay Area bands like Neosoreskin, the Brownies and Curveball.
"I thought I put my foot in my mouth: 'What did you tell him that for?'" she says. "I got the cassette in the mail," Schick remembers, "and she had talked it down so much, I was expecting utter rubbish. And I have to be honest about everything. I waited two or three days to listen. It blew me away."
Finally, Schick traveled to her hometown of Melbourne, and they moved in together. When he had to return to the States to take care of his elderly father, she followed. They took Artemesia Black on the road for a 2 1/2 month tour of the United States that was difficult for Heusler, who was still getting over her stage jitters and didn't find noisy coffeehouses a great showcase for her music. When they got back, they decided to take a different approach, setting up events that provide a proper setting for acoustic music and room to indulge their theatrical, dark-carnival style.
"I love going to see theatrical bands like the Dresden Dolls," says Heusler. "I thought, I want to do something like that, something a little extra. I love the whole dressing up thing, I've always loved that."
The Theatre on San Pedro Square, where they'll perform their first show with a full band on Friday, may not be the Winchester Mystery House, but it suits them. Though Schick's background is in loud and heavy electric bands, he sees Artemesia Black fitting in with an acoustic scene that has allowed unplugged acts like Gillian Welsh and Iron and Wine to find huge audiences. These are the people they feel a connection to, and would love to play with.
"And Nick Drake, of course," says Heusler. "If his ghost would come back."
ARTEMESIA BLACK perform at Theatre on San Pedro Square, 29 N. San Pedro Street, on Friday (July 17) at 7pm. Hang Jones opens. Tickets are $12. (408.306.2356)
Send a letter to the editor about this story.