07.15.09
home | metro silicon valley index | music & nightlife | band review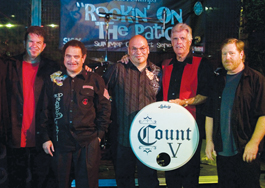 STILL COUNTING: San Jose's Count Five scored years ago with 'Psychotic Reaction' and haven't slowed down since.
Count Five
By Gary Singh
THE 1960s are long forgotten by some, but San Jose's garage legends Count Five remain standing. No one would ever have thought they would still be here more than 40 years later. In that sense, you got it wrong; they got it right: They're still around.
Even more, the band has a long history not just in San Jo, but straight up the ol' peninsula to RADwood City, where they gig this Friday. You see, in the later part of 1965 there was an awesome teen club on Industrial Way in San Carlos called the Cinnamon Tree, and it became the Count Five's home away from home, so much so that the club painted a life-size mural of the band on its wall. This will be the group's first gig in Redwood City/San Carlos since 1966. Now that is psychotic.
THE COUNT FIVE and BLACK PEARL perform Friday (July 17) at 8pm at the Little Fox, 2209 Broadway, Redwood City. Tickets are $12/$14. (650.369.4119)
Send a letter to the editor about this story.