07.15.09
home | metro silicon valley index | music & nightlife | band review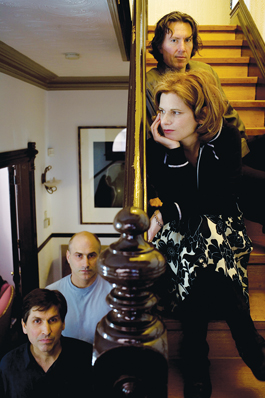 THE DEVIL MADE THEM DO IT: The Cowboy Junkies channel the intensity of Howlin' Wolf on their best records.
Cowboy Junkies
By Steve Palopoli
IF JOHN LEE HOOKER and B.B. King made audiences want to party through the hard times, Howlin' Wolf made them want to pull the covers over their heads and pray for it to all be over. With a voice that sounded like it came from the other side, and riffs to match, Howlin' Wolf made some of the scariest blues music ever recorded. The Cowboy Junkies' first record, Whites Off Earth Now!!, is the only modern blues album to recapture that intensity. Margo Timmins' beautiful vocals were ghostly in a different way, and her brother Michael's guitar had a way of sneaking up on you; their take on Robert Johnson's "Me and the Devil Blues" and Bruce Springsteen's "State Trooper" were enough to chill your blood.
In the two decades since that album, they've warmed their sound, but the touch of the otherworldly is still there. They co-headline this show with Son Volt, led by Jay Farrar and commonly considered "that other half of Uncle Tupelo," as opposed to Jeff Tweedy's Wilco. But Son Volt's best songs, like "Windfall," stand on their own just fine.
THE COWBOY JUNKIES and SON VOLT perform Friday (July 17) at 7:30pm at Montalvo Arts Center, 15400 Montalvo Road, Saratoga. Tickets are $45–$55. (408.998.8457)
Send a letter to the editor about this story.