07.15.09
home | metro silicon valley index | columns | style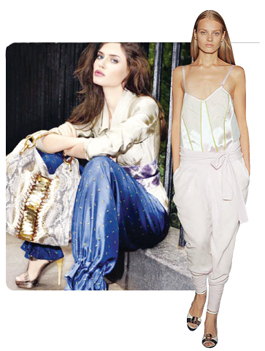 LOOSE & BAGGY: Harem pants are hot this season, whether tied at the waist on the Phi runway (right), or with a lot of give like the Elie Tahari leather pants (left).
I Dream of Genie
By Jessica Fromm
THE PENDULUM of fashion has swung once again. The skin-tight skinny jeans look is slowly giving way to a much baggier trend that was last seen in the Lisa Lisa and Cult Jam era. Love them or hate them, harem pants are in vogue again. A look immortalized by the likes of Yul Brynner and MC Hammer, harem pants have been blowing up in European street fashion for years—and have finally found themselves on the cutting edge of stateside couture.
This style ranges in voluminousness and shape this season, but the thing that all harem pants share is a billowy, baggy crotch that really hasn't been seen in women's fashion since Mr. Hammertime himself was shimmying across the stage. Though having the crotch of one's pants down to one's knees takes some getting used to, airy harem pants are ideally suited for summer and are a good option for chic women who aren't comfortable in short shorts.
Additionally, the contemporary version of these pants has nothing "parachute" about them; instead, they are composed of soft, flowing, feminine fabrics that are draped and pleated so they move well. Some of these styles are long and baggy overall, like the Paul and Joe chambray drop-waist harem pant or the Elie Tahari heather pant.
On the other side of the spectrum are pants that are more of a cross between and skirt and a legging, fitted from ankle to knee and then billowing out to the waist with a flourish or bow. These dramatic interpretations are the most recognizably "Aladdin"-esque slacks, and were shown on the summer 2009 runways by Phi and Jasmine di Milo.
More conservative interpretations are high-waisted, shapeless cropped trousers that are decidedly tapered at the ankle, such as those touted this season by Blumarine. Of course, cheaper versions of all these high-end looks are readily available at Urban Outfitters and H&M.
The biggest hurdle one must overcome when donning the harem pant trend is the subtle art of wearing a voluminous, baggy crotch without appearing frumpy. A low, baggy inseam inherently has the look of sweatpants, or at worst diapers. As such, the harem pant is an item can only be dressed up, not down.
Therefore, it is advisable to wear this style with a simple top tucked in and heels whenever possible. While a fitted blazer can give chic edge to roomy bottoms, one should be careful with layering so as not to appear stout. As for accessories, something with an exotic edge to play up the Indian connection is advisable, like a beaded bag or bold, earthy jewelry.
Send a letter to the editor about this story.