07.16.08
home | metro silicon valley index | columns | silicon alleys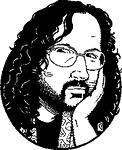 Silicon Alleys
Local Chefs Say Eat Me
By Gary Singh
SAN JOSE'S own Joey Chestnut once again won the world-renowned Coney Island Hot Dog Eating Contest this last July Fourth, and his "bib sheet" on the International Federation of Competitive Eating's website rattles off an impressive list of his gluttonous conquests—records like 8.8 pounds of deep-fried asparagus spears in 10 minutes or 56 sausage-and-cheese kolaches in eight minutes. Advocates of clogged arteries from coast to coast are hailing the dude as a true hero and a national treasure. He's as American as apple pie.
But if you want to quack about local boys done good with their food, there's a much more wholesome rock & roll story you should know about. You see, Gordy Carbone and Gary Sunbury, two local pillars and swillers of the community, have now appeared on celebrity chef Bobby Flay's newest show on the Food Network. The program, Grill It! With Bobby Flay, named after his recent New York Times bestselling cookbook, lets fans live out their ultimate culinary fantasy by cooking on television alongside Flay himself. Through audition videos and casting calls, Carbone and Sunbury competed with grillmeisters nationwide for 13 coveted guest spots, and they made it. If you were up at 6:30am last Sunday, you saw the debut of their episode, and it will now repeat again and again. Check your television schedules now.
(Chock-full disclosure: Both Carbone and Sunbury are old pals. Gordy is the throatman for the Forgotten, a local punk outfit on TKO Records that has been around 10 years and toured everywhere, while Gary is now the dude who changes the light bulbs above my desk.)
Years ago, the two blokes had already starred in their own homemade Internet cooking show called Eat Me (www.eatmetv.net), so they had plenty of source material with which to concoct their proposal when Sunbury first discovered the initial call for submissions on Craigslist. They both figured they had a unique package to submit: Two married punk-rock guys in their late '30s who cook a lot but can't afford $1,000 cutlery, have no need for gourmet parsley and who aren't concerned with the beta-carotene content of kale.
"I'm not going to talk shit on anybody who cooks, but I think what a lot of cooking shows lack is that they're not talking to the normal person," Carbone says. "When I emailed the show, I told them they were really missing the boat by not taking on what we've got to offer and from the get-go, it wasn't, 'Take Gordy and Gary,' it was, 'Take Eat Me.' I said, 'When it comes to cooking shows, we're something you've never seen before.'"
So, with a punk-rock do-it-yourself aesthetic, Carbone and Sunbury fired off their home-edited submission complete with a soundtrack, and it worked. After all the contestants were whittled down, Flay's show contacted the two and informed them they had made the cut. A cameraman from Burbank even came to downtown San Jose in order to film Carbone and Sunbury in their environment. The guy spent seven solid hours shadowing the two while they shopped at Zanotto's, skated around town, cooked up their fare in the kitchen and then bickered with an old Vietnamese lady who regularly goes through their trash can.
Next step: Plane tickets, hotel rooms in New York City and the studio where Grill It! With Bobby Flay is filmed. On the show, Carbone and Sunbury grilled up homemade chicken quesadillas, a marinated flank steak and a surf 'n' turf salad. "This is a great example of teamwork," Flay said during the show. "You guys work very well together." The dress code for appearing on the set was not what they expected, as there exist certain stipulations about what works on camera. "We couldn't wear white or black or red or anything with stripes, or nothing with checkers, or pretty much, like, everything we own," Sunbury says. But both were absolutely blown away by Flay's dedication to his craft. "What impressed me the most about Flay was that he was just like us, he was a normal guy, but with him, it's food first," Carbone says.
And when Flay autographed Carbone's copy of Grill It!, he wrote: "Punk on. Thanks for the delicious quesadillas." In Sunbury's copy, Flay scribbled, "Eat San Jose alive."
Contact Gary Singh or send a letter to the editor about this story.