07.16.08
home | metro silicon valley index | the arts | stage | review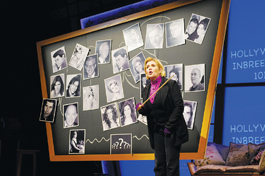 Photograph by Kevin Berne
CLASS IS IN SESSION: Carrie Fisher offers a lesson in Hollywood inbreeding as part of her one-woman show 'Wishful Drinking.'
The Fisher Princess
'Star Wars' icon Carrie Fisher cracks wise about her own ups and downs in 'Wishful Drinking' at SJ Rep
By Marianne Messina
WHEN interviewing celebrities, you almost never get the person you expect, someone derived from a composite of their media moments. If you're expecting a hostile paparazzi puncher, you get a soft-spoken philosopher. If you expect the Carrie Fisher whose caustic humor slammed down On the Lot contestant Jessica, you get a despondent Carrie Fisher speaking as if the sandman's sitting on her tongue.
Diagnosed as bipolar, a subject she addresses in her one-woman show Wishful Drinking, Fisher describes the disorder's mood swings, the productive highs and debilitating lows, as "one mood is the meal, the other is the check." Yet while working around the disorder, she has managed to produce a rich, prolific body of work.
Since her role as Princess Leia in the Star Wars films, Fisher has written five novels. Most well-known, the semiautobiographical Postcards From the Edge became a 1990 film (Fisher wrote the screenplay), starring Meryl Streep as Fisher's alter ego, Suzanne. The list of films she's script-doctored (and/or acted in) is long and impressive, from Austin Powers to The Wedding Singer. Wishful Drinking, coming to San Jose Repertory Theatre starting July 23, shows her acumen for live comedy. Fisher could easily opt for a reclusive life at home writing books and fixing scripts, but as she puts it, "Writing can get lonely, and so it's sort of more fun to work with people."
Her willingness to go out there in spite of uncooperative moods leaves her exposed in a way that is often missed by critics who say the show lacks self-revelation. Fisher takes control of the negatives in her life by aiming her one-liners at them: "It's the difference between I have problems, problems don't have me."
Daughter of Hollywood darlings Debbie Reynolds and Eddie Fisher, Carrie Fisher often talks of her brief marriage to singer/songwriter Paul Simon and about how Bryan Lourd, her daughter Billie's father, left her for another man. So the former Princess Leia has plenty of material to mine in her show, which, like her books, is autobiographical. Though Wishful Drinking toured in 2006 and just recently spent two months at Berkeley Repertory Theater, Fisher says there is always new material in the show. "There's a basic sort of shape to it, but I make little changes along the way."
One gets the impression that she not only controls what goes in the show but likes to perform it somewhat freeform. When asked what the show's various directors have offered to enrich the show, she says vaguely, "They make suggestions, they have a set of eyes that I don't have. It is a hard show to direct because sometimes, you know, you're making up stuff."
Fisher cites one of the uncontrollable aspects of the show, the audience participation. Besides drafting volunteers to come up onstage, she gives the audience a psychiatric exam. Fisher says she has based her theatrical sanity test on the real tests she's seen in the medical field, adding, "Everyone is mentally ill based on the questions they use."
Fisher's ability to toss off one-liners is almost an instinct. Once on Craig Ferguson's talk show, she summed up her parents' breakup over Elizabeth Taylor: "Mike Todd [Taylor's then husband] tragically passed away in a plane accident, and my father consoled Elizabeth with his penis." She admits that like her characters, she can wheel out one-liners in any condition. When the doctor tells a semicomatose Suzanne he has to pump her stomach, she replies groggily, "Do I have to be there?"
Many of Fisher's best lines find their way into Wishful Drinking. The second half is where Fisher trains her artillery on experiences with bipolar disorder and alcoholism (claiming the latter is a way to mask the bipolar symptoms). Although she doesn't see Wishful Drinking as some kind of vehicle for imparting insights to those with similar issues, she does feel that her humor might make the disorder feel less "dangerous," a word that comes up often when she refers to it.
"You have to try to not make it so serious, so deadly," she explains in raspy morning-after voice and halting cadences, "if you could make it funny, if you could find the humanity in it ..." She pauses deliberatively. "Otherwise it can, it can be, it can really scare the shit out of you."
WISHFUL DRINKING plays July 23–Aug. 2 at the Rep, 101 Paseo de San Antonio, San Jose. Tickets are $40–$60. (408.367.7255)
Send a letter to the editor about this story.