07.16.08
home | metro silicon valley index | the arts | books | review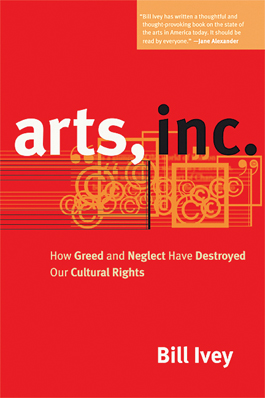 Arts, Inc.
How Greed and Neglect Have Destroyed Our Cultural Rights
By Michael S. Gant
The recent fire at Universal Studios apparently destroyed many prints of classic movies, although the studio claims that copies exist elsewhere and that nothing was irreplaceably lost. Still, since Universal as a studio has been slow to issue its classic films on DVD, one worries about the state of our cinematic legacy. As Bill Ivey writes in Arts, Inc., "Just because some company owns a movie or a record, just because copyright lets it buy, sell or lock away creative treasures, we don't give up our citizens' right to know that our artistic heritage is secure and preserved for future generations." Ivey, the former head of the National Endowment for the Arts from 1998 to 2001, passionately believes that the public's right to know—to experience—its cultural heritage is severely threatened by monopolistic corporations, overzealous copyright laws and the erosion of the concept of "fair use." There is no assurance, he worries, "that music, drama, literature, and dance created over the past century will be made available, or that, when we look for it, the heritage we seek will exist." Film studios limit access to their movies, and a handful of photo archives, like Corbis, end up owning the images of our history (to make a point, Ivey lists the exact reprint cost of the illustrations used in the book). Ivey suggests that the biggest copyright hogs ... er, holders ... must sit down and agree to some preservation legislation and a reworking of copyright law. The laws governing fair use will also have to be rewritten. Court rulings, Ivey notes, now require that even the tiniest music sample requires a licensing fee. The definition of fair use has became so weighted toward copyright holders that artists are afraid to exercise their rights for fear of legal action. Ivey's overall solution is bureaucratic in nature—the creation of a U.S. department of cultural affairs. I suspect that the industry lobbyists will easily corrupt such a department, but it is a start. In the end, Congress needs to drastically change the copyright laws. As Ivey concludes: "The copyright-fueled marketplace is the biggest single obstacle separating Americans from the full exercise of our cultural rights." (By Bill Ivey; UC Press; 342 pages; $24.95)
Send a letter to the editor about this story.