07.16.08
home | metro silicon valley index | silicon valley restaurants | review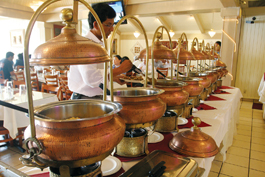 Photograph by Felipe Buitrago
COPPER ROCK: Zafran offers a lunch buffet with lots of stand-out options.
Muslim Soul Food
Zafran in Santa Clara celebrates muscular, hearty meat dishes
By Stett Holbrook
THE STRETCH of El Camino Real that runs through Santa Clara and Sunnyvale is a haven for south Indian food. The quality and quantity of the mainly vegetarian restaurants is unmatched in the Bay Area. But in what I see as further proof that ECR is the most food-blessed byway in Silicon Valley, the street also boasts two top-notch Pakistani restaurants where animal flesh is king: Shalimar and Zafran.
I have written about the wonders of Shalimar before, but I've only just made it to Zafran. Zafran is a clean but spare place with tables with glass-topped white tablecloths. It looks like it once was a Marie Callender's or a Hungry Hunter before the winds of demographic change blew through Santa Clara and improved the diversity of the food scene.
The menu is actually a mix of northern Indian and Pakistani food, but I went for the overtly Pakistani dishes because there are few restaurants in Silicon Valley that specialize in it. Northern Indian and Pakistani food is muscular, hearty fare that revolves around meat: chicken and beef but also lamb and goat, lamb brains and other organ meats. This is food for the advanced carnivore, the kind of chunky, bone-in food that toothpicks were made for.
Nehari ($7.99) is one of Pakistan's signature dishes. It's a beef-shank stew with an uncommonly rich, gravylike sauce that packs a creeping, warming spiciness. The beef is wonderfully tender and seductive.
Haleem ($7.99) is another classic Pakistani dish that's like a beef-flavored porridge (it's available with chicken, too). The thick and creamy stew is an earthy yellow and simmered with various spices and lentils so that the legumes and meat are indistinguishable from each other to combine in one nourishing bowl of goodness. The thin, matchstick slices of ginger, fried onions and sliced serrano chiles on top add a high note. No need for utensils with this one. Just order some of Zafran's good naan and scoop away.
Probably the best thing I tried was the behari kebab ($7.99). Bihari is a state in western India that is dominated by vegetarian Hindus. But many of the state's Muslim minorities moved from Bihari to Pakistan during India's partition in 1947. Karachi now has a distinct Bihari population; and the behari kebab is beloved as a street food and quick snack.
What distinguishes the behari kebab at Zafran (they spell it with an "e" instead of an "i") is its deep, spicy, pucker-producing marinade. It's available with beef, chicken or lamb. I went for the beef. The spiced beef is roughly pounded and so tender you eat it with a spoon. It's unabashedly spicy, but scoop it up with some naan and add a squirt of the cooling mint yogurt sauce placed on the table and you'll be in great shape.
Another aggressively flavored dish I loved was the achar gosht ($8.99), bone-in goat braised with spicy, salty pickled vegetables in a muddy-looking but delicious curry. Goat doesn't get much play around here, but it's quite good. If you like lamb, you'll like goat.
For lunch, Zafran offers an extensive, all-you-can-eat buffet for $9.99 that has several standouts. Here the menu reaches south into India to include several better-known dishes. The tandoori chicken is blistered black and red from the oven, and it is tender and juicy because the kitchen keeps replenishing the copper buffet pots with fresh batches of chicken.
Bhartha (eggplant) is delicate and silky with slow-cooked onions and green peas. But it was the meat dishes, like the excellent beef tandoori masala, that sent me back for more. The tandoori-roasted ground beef is simmered in a creamy, spicy curry as thick as lava.
El Camino Real deserves its reputation for great south Indian vegetarian food, but Zafran is doing its part to keep the meat banner waving high.
---
Zafran Restaurant
Address: 1855 El Camino Real, Santa Clara
Phone: 408.247.9998
Hours: 11am–11pm daily
Cuisine: Pakistani and northern Indian
Price Range: $6.99–$9.99
Web: zafranrestaurants.biz
Send a letter to the editor about this story.