07.16.08
home | metro silicon valley index | movies | current reviews | dvd review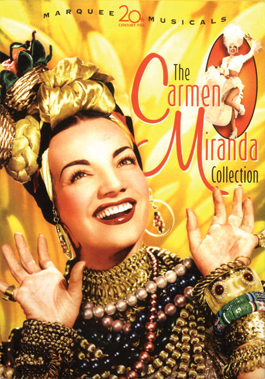 The Carmen Miranda Collection
Five discs; 20th Century Fox; $49.98
By Michael S. Gant
Audiences in 1939 must have thought that Carmen Miranda had sprung full born from the head of theater entrepreneur Lee Schubert when she made an immediate sensation in the Broadway revue The Streets of Paris. She was actually 30 and already a major singing star in her native Brazil, when Schubert saw her in a Rio nightclub. The process by which Miranda made herself instantly identifiable by her bespangled costumes, her turbans and grandiose hats (which she designed herself), her cheerful malapropisms and her highly mobile, bright-red lips inevitably distilled some of her authenticity into a stereotype that troubled Brazilians—a subject touched on in the fascinating documentary The Girl From Rio that accompanies this five-film set. Ultimately, Miranda triumphed by transcending Latin-bombshell clichés to become a unique brand. An accomplished dancer and comedian, she established herself as a musical headliner even if her performances were too calorie-rich to allow her to be the centerpiece of a plot. In these five Fox musicals from the early 1940s, Miranda adds verve to wholesome romances between the likes of Vivian Blaine, Alice Faye, Perry Como, Michael O'Shea and even William Bendix. Doll Face (1946) and If I'm Lucky (1946) suffer from Fox's postwar cost-cutting, when they turned off the Technicolor—Miranda in black-and-white misses the point altogether. In the former, Blaine plays the world's unsexiest burlesque queen ("the classy chassis from Tallahassee") trying to move uptown; Miranda has only one number. In the latter, Como and his band mates get caught up in a gubernatorial race. Miranda's mambo number find her surrounded by dancers clad in extreme stripes and ceiling-scraping cone hats. The other three offerings, all in excellent Technicolor prints, supply memorable treats. Something for the Boys (1944) follows the misadventures of three cousins putting on a show for GIs in a Southern plantation mansion. Miranda performs two sambas with help from hard-tapping showgirls in purple sequins and pink ruffles. She also displays her skills at physical humor—watch her mocking arm gestures as she and Blaine make fun of uptight Sheila Ryan in a kitchen full of sleek appliances that future generations of thrift-shop addicts will lust after. In Greenwich Village (1944), an aspiring composer (Don Ameche) writes pop tunes for some lower Manhattan bohos. Miranda plays a fortune teller/dancer who dons a lollipop and candy-cane hat to sing "I'm Just Wild About Harry." In "I Like to Be Loved by You," a tower of white caribou feathers adds about two feet to her costume; "Give Me a Band and a Bandana" shows off her figure in a shimmering black gown cut up one leg to reveal a coral-pink underside. The best film, The Gang's All Here (1943), brings together Miranda and Busby Berkeley for a convocation of surrealistic sensibilities. Miranda's Dorita is introduced beneath a cargo load of tropical fruit that turns into a massive cornucopia-shaped chapeau. Berkeley then ups the ante in the justifiably famous "Lady in the Tutti Frutti Hat" number: monkeys cavort in fabric palm trees, Miranda plays a xylophone made of banana keys, chorus girls wave giant bananas in phallic formations and dancers lie on their backs tossing around mutant strawberries the size of medicine balls. All the while, Berkeley keeps his camera gliding in vertiginous swooping tracking shots. This seven-minute masterpiece remains lightly tethered to some ostensible pretense of a stage-show-within-a-movie. At the end, Berkeley complete abandons reality for the "Polka Dot Ballet," with neon hula hoops floating in inky space, chorines tossing colored disks back and forth (with the film running backward for one disorienting effect), Alice Faye swirling in a kaleidoscope rush of color that morphs into pure abstraction—and, finally, the disembodied heads of the film's cast floating freely in some Dantesque empyrean. You haven't seen anything until you've seen froggy-voiced Eugene Pallette zooming at the screen singing "Journey to a Star."
Click Here to Talk About Movies at Metro's New Blog
Send a letter to the editor about this story.