07.16.08
home | metro silicon valley index | movies | current reviews | dvd review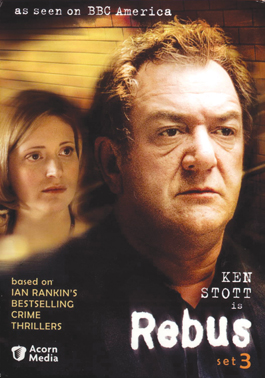 Rebus, Set 3
Four discs; Acorn Media; $49.95
By Michael S. Gant
Rumpled, querulous, nose swollen by too many pints, Detective Inspector John Rebus doesn't exactly inspire confidence. He pisses off his superiors and browbeats subordinates; he makes serious errors of judgment (like sleeping with a woman who's obviously working undercover or lying about his presence at a crime scene). Of course, when the fingerprinting powder settles, he has usually nailed the right suspect, even if his methods raise red flags. This short-run policier from the U.K.'s SMG Productions, based on the bestselling novels by Ian Rankin, began in 2000 with John Hannah in the lead but didn't hit its stride until 2006, when veteran actor Ken Stott (The Chronicles of Narnia: Prince Caspian, Charlie Wilson's War) took over as Rebus. This set gathers together the four 70-minute episodes that aired in fall of 2007. The production values are high-these are more like self-contained minimovies than episodes of an ongoing series. The Edinburgh setting allows for interesting and unusual location work; after a surfeit of London-based cop and forensics shows, it's a relief not to see the Millennium Footbridge and the 30 St. Mary Axe "Gherkin" building in every other shot. The plots run to the familiar (a case is thrown out of court because of Rebus' overzealous interrogation style; a high clergyman is caught in a scandal; a suspicious suicide roils a trade summit) but are worked out with a satisfying density of detail, even if the accents are sometimes hard to untangle. The show benefits from two strong female roles: Claire Price as Rebus' young colleague, who slowly learns to stand up for herself in the face of Rebus' corner cutting, and Jennifer Black as the perpetually annoyed chief of detectives who must hold the higher-ups at bay.
Click Here to Talk About Movies at Metro's New Blog
Send a letter to the editor about this story.