07.16.08
home | metro silicon valley index | movies | current reviews | film review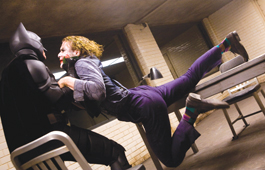 Courtesy Warner Bros. Pictures TM&© DC Comics.
TESTY, TESTY: Heath Ledger's Joker goes after Christian Bale's Batman in 'The Dark Knight.'
The Fright Club
Chris Nolan's 'The Dark Knight' shows us the Joker's life as a dog
By Richard von Busack
AN EMOTIONAL wipeout and an incomparably grand spectacle, a merging of horror film, gangster film and romance—that's The Dark Knight. Director Christopher Nolan unwinds decades of pulp myth to reveal material that has the richness of the smartest Westerns and film noir. Posing as an abrasive wastrel, Bruce Wayne (Christian Bale) is secretly Batman, the masked vigilante. Nursed by his butler, Alfred (Michael Caine, the film's moral center), Bruce lives in a skyscraper in midtown Gotham City, with access to an underground lab. The city—one big favela and homeless encampment in Batman Begins—looks like modern-day Chicago. The drama unfolds in richer surroundings, in office towers and city halls. Batman's successful investigation into a money-laundering scheme is interrupted when bandits raid an underworld bank. The thugs' leader, the Joker (Heath Ledger), climbs his way up like a '30s outlaw, despite the opposition of an incorruptible DA Harvey Dent (Aaron Eckhart, excellent). Dent and Wayne have something in common: the love of an assistant DA, Rachel (Maggie Gyllenhaal, taking over and improving on the part from Katie Holmes). When Joker begins killing victims to get to Batman, public pressure mounts to unmask the vigilante, and that's when the gang war gives way to something far worse. Visually, The Dark Knight is a triumph of technology. Nolan regular Wally Pfister fuzzes the line between CGI and the corporeal world so well that it is impossible to detect the seam. I saw this previewed in IMAX, and that unwieldy screen has never been better used for drama or for plunging depths. Although it's a sequel, The Dark Knight has little in common with the way most action stories are told. The moral standoffs are more fascinating than the gun battles. Ledger's Joker is everything you've heard he is. Newly sprung from jail, hanging his shaggy, greasy head from a speeding car window like a pooch, he reinforces the film's conception of an übervillain as a mad dog, biting whom he pleases. When he's threatening people, Joker's tongue lolls a little; maybe that's more dogginess, or an after-effect of having his mouth split sideways by a knife. The rotting clown explains himself well, and yet he still remains a man of mystery. Like so many real-life psychos, he has a new story for everyone. And he also has drop-dead great lines: "Do I look like I have a plan?"
Nolan certainly had one. The film crackles with zeitgeisty references to the collapse of American self-esteem. It explores the paralyzing fear and the lashing out after we encountered bin Laden seven years ago: a figure almost as crazy as Joker himself. Upon the subject of the use of force, the film is better argued than many pundit shows. Jack Nicholson's Joker was a performance artist, a Chris Burden who fired the gun at you instead of himself. Ledger's Joker is a political scientist of terror, trying to convince us it's a mondo cane, a dog's world. Any movie can harp on the importance of not capitulating to a terrorist. It takes a more sophisticated film to argue against descending to a terrorist's level, no matter what the provocation.

THE DARK KNIGHT (PG-13; 160 min.), directed by Christopher Nolan, written by Christopher and Jonathan Nolan and David S. Goyer, photographed by Wally Pfister and starring Christian Bale and Heath Ledger, opens July 18.
Click Here to Talk About Movies at Metro's New Blog
Send a letter to the editor about this story.