07.16.08
home | metro silicon valley index | movies | current reviews | film review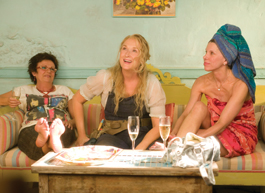 Peter Mountain © 20908 Universal Studios
RUNS THE GAMUT FROM A TO B: Julie Walters (left), Meryl Streep and Christine Baranski lounge around in the ABBA musical 'Mamma Mia!'
Schlagered
A big fat Greek wedding offers excuse to revisit the songs of ABBA in 'Mamma Mia!'
By Richard von Busack
WHATEVER ELSE you think of ABBA, you have to respect great cross-programming. Mamma Mia! opens just as the world's boyfriends and husbands are going off to see their secret boyfriend Batman. If everyone allergic to bats wants to have lukewarm Swedish mayonnaise squished into their ear holes, who the hell am I to object? The ABBA era began as a spin-off of "schlager" (hit) music, a genre of soft international-style pop. The sound was refined by a quartet of Scandinavians into Euromusic, slightly heightened with minor chords, denatured Latin beats and ESL lyrics. One line references "a surge of the well-known sadness," which sums up both the calculation of ABBA's music and my response to it. The band was a piece of spotless machinery that outsold any other industry in Sweden, even though the product bore the same relation to Motown as a Volvo does to a Pontiac Firebird. ABBA's hits seem mostly to recall the mildly good time the singers had on Mediterranean vacations. Thus a canny DJ could mash Eric Idle's monologue as "Mr. Smoketoomuch," about the unspeakable Spanish package tour, with ABBA's "Fernando."So: the lovely but dim 20-year-old Sophie (Amanda Seyfried) invites three men who might have been her father to her wedding as a surprise to her mother, Donna (Meryl Streep.) Mom runs a ramshackle hotel on the Greek island of Kalokairi. Coincidentally, two members of Donna's former band (Julie Walters, Christine Baranski) have arrived for the wedding with the three contenders for the parenthood. Both mother and daughter believe they're hiding the men from each other: the mildly depressed Harry (Colin Firth), the globetrotting sailor Bill (Stellan Skarsgard) and the dashing architect or something Sam (Pierce Brosnan).
Director Phyllida Lloyd is a London stage vet who is stark blind to the synthetic quality of the Villa Donna set and Julie Walters' way-too-close-to-the-camera mugging. When we get away to the beaches and the other side of the island, Mamma Mia! achieves a little of the lyrical and mythical quality it seeks. Brosnan is the most unlikely singer ever to emerge from Ireland, yet his rapport with Streep proves again what an underrated actor he is. When he gives his old flame Donna a look and tells her simply that he's back on the island "because you know what it meant to me," the film suddenly got a little of the romantic mist it's conjuring.
Streep is endearing in comedy. She has been an expert song-saleswoman ever since she did "He's My Pal" in Ironweed. Standing on a cliff, she gives "The Winner Takes It All" Streisand-level force. Baranksi performs the gay-bar anthem "Does Your Mother Know" in the vein of Jane Russell's "Ain't There Anyone Here for Love?" in Gentlemen Prefer Blondes, and it went over with the lads in the audience just as well. Here and there are times when this twee musical isn't as bad as it sounds.

MAMMA MIA! (PG-13; 108 min.), directed by Phyllida Lloyd, written by Catherine Johnson, photographed by Haris Zambarloukos and starring Meryl Streep, Amanda Seyfried and Pierce Brosnan, opens July 18.
Click Here to Talk About Movies at Metro's New Blog
Send a letter to the editor about this story.