07.16.08
home | metro silicon valley index | music & nightlife | band review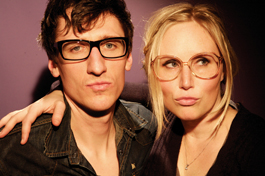 Photograph by Cathy Bauer
Along for the ride: Mates of State join the Download Festival in support of their new album, 'Rearrange Us.'
Upwardly Mobile
The Download Festival is a band-studded commercial bonanza
By Jessica Fromm
GAINING a reputation as the grand poobah of summer festivals reeking of commercialism, the 2008 edition of the Download Festival is set to be sea of corporations jockeying for position, sweaty young hipsters in tank tops, and with any luck, some surprisingly decent music.
It's nothing new that music festivals in our technological age are often the corporate sponsored equivalent of a NOW compilation full of sunburn, dehydration and $8 beers. Still, the Download Festival seems to take the cake when it comes to pure, unadulterated corporate advertising.
Download is a three-day staple on the U.K. festival circuit, having crossed the pond to the Bay Area in 2005. Now in its fourth U.S. incarnation, Download 2008 has three separate dates and lineups, starting in San Francisco before traveling to Los Angeles and then Philadelphia. The festival's shtick promises to bring artists and fans together in new, innovative ways by hosting Q&A stages, meet-and-greet autograph sessions and opportunities to chat with artists backstage via cell phone or Instant Messenger.
Created by Clear Channel and promoted by its spin-off Live Nation, it's hard not to see the Download Festival as an excuse to corral a giant group of 16- to 28-year-olds into a confined area to be subjected to advertisements. With Volkswagen, Last.fm, Epiphone, Nowwhat.com, Seagate, Spin Magazine and others on hand to bombard festival-goers with their wares, there are a lot of agendas being pushed around. Numerous companies are vying for these upwardly mobile young people's loyalty, especially since they are just the right age and demographic to pay for a $20 ticket and still be disproportionately impressed when handed free promotional schwag.
Granted, most of these tech-savvy concertgoers pirated the music of the bands they came to see, so money must be made somewhere. This is the type of festival where half the crowd's faces will be illuminated by the camera phones they hold up to catch low-quality YouTube-ready videos of their favorite act's performance. Still, you wonder how much it cheapens the experience when these are the same kids who stampede into the sponsorship booths to accumulate free bumper stickers and iPod covers.
This swirling cocktail of pilfery and corporate pandering aside, the lineup of the 2008 Download Festival features some surprisingly solid acts and two reunited post-punk greats.
Regrouped headliners Jesus and Mary Chain will play under the cavernous twin peaks of the Shoreline canopy, with all the squalling glam-punk and sullen riffage that made them the self-styled embodiments of obdurate aloofness in the mid-'80s. Scottish-born brothers William and Jim Reid have reformed the rebellious partnership that was the nucleus of this seminally dreary band throughout its numerous lineup changes. Considering their bitter split-up in the late '90s, the brothers' reconciliation is something many thought impossible, until you consider the monetary benefits of JaMC's reburgeoned popularity (thank you, Sofia Coppola.) Hopefully Scarlett Johansson and her "vocal stylings" won't be tagging along.
Iconic post-punk group Gang of Four will appear as a gang of two, sans original bassist Dave Allen and drummer Hugo Burnham, who left to pursue other projects earlier this year. Though this seminal English band's angular, funky twitch-rock took off more than their Marxist political views, Gang of Four have since found masses of new followers via the digital music revolution.
Of course, Download wouldn't live up to its name if it didn't include an eclectic array of blogosphere-buzzed, MySpace-ready indie acts like Mates of State, Tapes 'N Tapes, Mute Math, Yeasayer, Louis XIV and the Whigs. Even emo-punk-blasters Brand New get a chance to spread the angst, along with Portland-based mixed-bag indie-tribe Blitzen Trapper, Chicago DJ duo Flosstradamus and the spacy-synth electronica of M83.
Frosty Liela Moss of London's the Duke Sprit will channel Nico's nihilistic ennui over her band's filthily eccentric rock & roll, while the Norwegian tracksuit-clad ravers Datarock and Australian electro-disco trio Cut Copy will keep people dancing like fools. Make sure not to miss Elephone, the San Francisco garage power-pop quintet whose catchy, danceable melodies mask a core of deep murky tendencies.
Of course, Shoreline being the gem of Mountain View that it is, the majority of festival-goers who shelled out their meager cheese will still be light years and jumbo screens away from both the stage and their artists of lust. Though Download Festival 2008 may be a music festival that promises to bring artists and fans together, it's awful hard not to see the man behind the curtain.
DOWNLOAD FESTIVAL happens Saturday (July 19) at 1pm at Shoreline Amphitheatre, 1 Amphitheatre Pkwy., Mountain View. Tickets are $20. (408.998.TIXS)
Line-Up
Main Stage
1:25 - 1:55: The Airborne Toxic Event
2:00 - 2:30: The Duke Spirit
2:35 - 3:05: Tapes 'n' Tapes
3:10 - 3:40: Flosstradamus
3:45 - 4:15: Datarock
4:20 - 4:50: M83
4:55 - 5:25: Mates of State
5:30 - 6:00: The Whos
6:05 - 6:35: Yeasayer
6:40 - 7:10: Cut/Copy
7:15 - 7:45: Mutemath
7:50 - 8:40: Brand New
8:45 - 9:35: Gang of Four
9:40 - 10:30: The Jesus & Mary Chain
10:35 - 11:25: RJD2
Send a letter to the editor about this story.