07.16.08
home | metro silicon valley index | music & nightlife | band review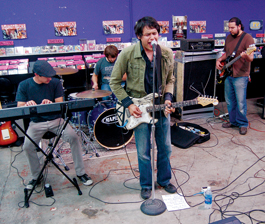 Photograph by Claire Young
Record Store Rocking: The Record Winter jam at Rasputin Music in Campbell.
Christmas In July
The Record Winter comes bearing gifts
By Claire Young
WE'RE AN expressive band," says James Trujillo, bassist for San Jose's the Record Winter. It's a brief yet accurate description of his band mates as a unit, in conversation and onstage.
Where much of the music played in the South Bay today is spurred by growl-filled youthful angst or aging, beer-guzzling punk rockers, the Record Winter is helping mellow out the local scene with a strong dose of indie rock.
Trujillo, former member of Keeping Ellis and Maida, is joined by Dominic Miranda (vocals, guitar and keyboard), Matt Hastings (drums and percussion) and Steve Sczepanik (lead guitar, keyboard and percussion), and the group has performed together for a little more than a year in its current lineup.
On the band's MySpace site, Miranda describes the Record Winter's sound as "Tim Kasher enabling Jeff Tweedy to drink and do a few lines of coke while Neil Young tells them they should get over themselves." Boiled down, the Record Winter crafts a poetic and artful blend of twang-tinged singer/songwriter melodies with an ambient bent and a touch of soul and groove, highlighting the somber with a glimmer of hope.
Some songs lean more toward the acoustic, as Miranda originally began as a solo artist under the moniker of the What Ifs, and Hastings says many of their songs come to the band as guitar and vocal parts from Miranda that the band builds upon, while other songs begin as jam sessions and are fleshed out through practices. "We add our little twists and turns to it," Trujillo says. In the end, no song is a solo effort, and during a standard set, every band member takes his turn with a percussion instrument—maracas, tambourine, sleigh bells—contributing to the mix onstage. For one song at a recent Rasputin Records show, Hastings played the drums with one drumstick and one maraca.
Not only does the Record Winter play a within a genre as of late left by the wayside in the South Bay, but it stands out by having a lead singer who performs with conviction—Miranda believes the words he sings and takes audience members on his emotional journey, visibly wincing as he belts out lyrics or woefully strumming his guitar, eyes closed. "Truly, honestly, I would go insane if I didn't play shows," Miranda says. "I would honestly lose my f—ing mind. And that should just speak for itself there. I'm not trying to get laid or anything like that. I'm not trying to be cool. I just honestly would lose my f—ing mind—and I have lost my mind on occasion due to the fact that I didn't play music for a little bit."
Miranda has been fruitful in his pursuit of sanity through musical release. Compositions like "Constant Comedown" induce swaying, sweetly lulling audience members into rhythmic motion, and though some songs include heavier guitar and drum action, the binding thread of the Record Winter's songs is the penchant for clean, tight musical masterpieces.
Though musically a four-piece, the Record Winter becomes a quintet onstage with the addition of Steve's brother, Sean Sczepanik, who rounds out the idea of music and art holding hands by painting along to the band's music. "It's kind of like he's an outside perspective—like he is a part of the crowd," says Steve. This mix of art and music, though not new, has cropped up at South Bay shows over the past few years, most notably at events hosted by Pacific Art Collective, but South First Fridays on downtown San Jose's South First Street art row and even a recent post-fireworks party at the Art Ark Gallery have included on-the-spot art creation.
At the majority of the Record Winter's concerts, Sean paints, blotching out large sections on found wood scraps, mostly in pale, muted shades, often slightly blurry in watercolor style with great patches of white or yellowy green, others with streaky wisps of red or blue, conveying emotions rather than specific imagery. As the set progresses, he overlays these compositions with other drips and squiggles, ultimately ending up with a finished piece by the time the band plays its final note. And as a unique treat for fans, Sean often gives the completed works to audience members following the show, Trujillo says.
"I think it's awesome," says Trujillo. "I mean, it sounds pretty cheesy to say, but it's an original representation of what we're doing then and there. He's done when our music stops." Miranda agrees, mentioning that Sean has been a part of much of his day-to-day life. "I mean, he ...even lives the lyrics I write," he says. "He's been there over the years. He'll see me in my moods."
Though their performances may stand out from those of other local acts, even the Record Winter isn't immune to the standard fare of bands in their teens and early 20s—Steve is leaving the group in September to pursue his education, and the band is looking for a new guitarist. "Preferably we'd like an '80s shredder," Miranda joked. "Or a keytar player," Hastings added. "I've argued drunkenly with him not to do it," Miranda says, "but I've accepted it."
The Record Winter is currently working on an EP with Steve Murr, who also recorded the group's previous EP, "To be released whenever the hell we finish it," says Trujillo. For now, catch the Record Winter this Sunday at the VooDoo Lounge with the Bane, Alert the Armory and Kami Nixon. "We're actually really nice," says Miranda. "And we really like talking to people."
THE RECORD WINTER performs Sunday (July 20) at 8pm at the VooDoo Lounge, 14 S. Second St., San Jose. Tickets are $8 advance/$10 door, and advance tickets can be purchased through the band's website, www.myspace.com/therecordwinter.
Send a letter to the editor about this story.