07.16.08
home | metro silicon valley index | the arts | stage | review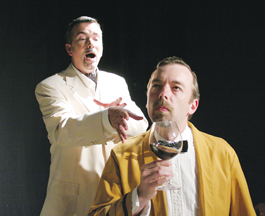 SHIPMATES: Steve Cortopassi (left) and Jonathan Ferro spar in 'Rough Crossing.'
Farce Ahoy
Dragon's 'Rough Crossing' features seduction, tantrums and perfect comic timing
By Marianne Messina
HEAVY WORDPLAY and reverberant references have sunk many a Tom Stoppard vessel, but fortunately the playwright's midcareer play Rough Crossing is buoyant with parody. Noel Coward's Private Lives meets Michael Frayn's Noises Off in this Dragon Theatre Production set aboard an ocean liner in the 1930s. Set designer Ron Gasparinetti's shipside walls are Art Deco round and Caribbean ocean blue. Rough Crossing gives us the writing team of Turai (Steve Cortopassi) and Gal (Magenta Brooks), who are on their way to New York to begin rehearsing a musical comedy they have yet to finish. Joined by young composer Adam (Jason Arias) as well as the musical's leading man and lady, preening Ivor (Noel Wood) and cooing Natasha (Monica Cappuccini), Gal and Turai try to finish the show. But when Adam, Natasha's hopelessly lovelorn fiance, overhears the sounds of seduction between Natasha and Ivor in an adjoining room, tantrums and writer's block ensue.
Turai devises an elaborate ruse (requiring a play rehearsal) to exculpate the philandering culprits. This setup allows the second act's humor to take off exponentially. As the troupe runs through its play-within-a-play, secondary meanings layer the plot while shipboard complications layer the action. Directed admirably by Dave Sikula, this show floats on carefully considered stage business, waves of charisma from all four leading actors and timing as smooth as the cognac Turai can never get his hands on.
Both Monica Cappuccini as Russian prima Donna and Noel Wood as leading man lothario ham up the flair, the self-absorption and the melodrama. Wood, with his slicked hair and Errol Flynn mustache, is a shuffle of facial expressions and clever action, like briskly touching up his makeup when no one's looking. In full copper curls and slinky wardrobe (Sonya Raymakers, costume design), Cappuccini puts a glint in her glances that spices her accent and actions (both deliciously overdone) with a wicked playfulness. Aided by that priceless ability to raise one supercilious eyebrow, Cortopassi pulls off a Turai who never lets his cool down. Brooks, tall, composed, elegantly professional in pants and satin blouse, seems to have studied the posture and mannerisms of iconic female forces like Katharine Hepburn and Lauren Bacall. Each performer is fun to watch, and the chemistry is clearly inspired.
Sikula's stage direction offers clever surprises, like the sneaky ways actors try to upstage each other. And at every opportunity, the music enhances the show. Lisa Battista (offstage) brings live accompaniment to André Previn's catchy songs, "This Could be the One," and "Where Do We Go From Here?" The piano's dance-hall tuning works with that stompy beat (imagine a chorus line of Shirley Temples) for a distinctly '30s feel. And there's a great mixed-media conversation that begins with Natasha telling Adam, "You can't get along without me," and Adam playing, "I Get Along Without You Very Well," on the piano. (Cy Eaton cues up some great vintage tunes between acts). After spending the show as a lovesick sad sack with a speech impediment, sweet-voiced Jason Arias sings like a romantic lead. The song-and-dance numbers are delightful, less like a professional chorus and more like a party of friends. One patron expressed it well: "This was a hoot."
ROUGH CROSSING, a Dragon Productions presentation, plays Thursday–Saturday at 8pm and Sunday at 2pm through Aug. 3 at the Dragon Theatre, 535 Alma St., Palo Alto. Tickets are $20/$25. (650493.2006)
Send a letter to the editor about this story.