July 18-24, 2007
home | metro silicon valley index | music & nightlife | review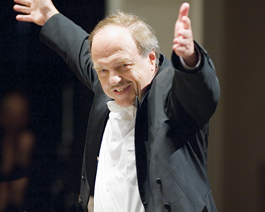 Photograph by Jim Kasson
Maestro: Bruno Weil led the Carmel Bach Orchestra over the weekend.
Bach Takes Off
The annual Carmel Bach Festival led with its namesake's 'St. Matthew Passion'
By Scott MacClelland
SUNDAY'S matinee performance of Bach's St. Matthew Passion, a signal feature of the 70th anniversary season of the Carmel Bach Festival, memorialized the late Sandor Salgo. In so doing, music director Bruno Weil demonstrated a lack of insight into the work's dramatic arch, exactly the thing Salgo was famous for during his long tenure at the festival's helm. This notwithstanding Weil's huge advantage over the resources available to Salgo in the caliber of musicians and singers as well as the acoustic sophistication of the totally renovated Sunset Center, the festival's home.
Salgo died earlier this year at age 97 and is a prime focus of the souvenir program book's survey of the festival's six decades. Long-timers remember the Salgo years with fondness and nostalgia, and especially his way of pacing the St. Matthew to achieve maximum emotional release among performers and audience alike. A lifelong student of Bach before modern historical scholarship, Salgo recognized that our current understanding of emotion in music descends, with compelling authenticity, from this work, more than any other from its time or earlier.
Meanwhile, Sunday's performance unfolded with high standards of execution by orchestra, choirs and soloists alike. Aria vocalists Kendra Colton, Sally-Anne Russell, Benjamin Butterfield and Sanford Sylvan—all veterans in these roles—produced their best work. The Christus of Michael Dean was portrayed with authority, and Alan Bennett was well cast as the hard-working, underappreciated Evangelist. Instrumental solos and cameos also got their due. This is Andrew Megill's first season as associate conductor—meaning director of the elite chorale—and he inherited a substantial number of voices handpicked by his predecessor, William Jon Gray. Under Gray's leadership, the chorale spit out consonants with an articulate vengeance that diction-lovers applauded. That cutting edge had gone soft in this festival's opening two programs.
Weil has long since delegated programs to others, including concertmaster Elizabeth Wallfisch (the Monday main program among others) and recitalists like keyboardist Andrew Arthur, lutenist Richard Kolb and cellist Allen Whear. Under that scheme, it has taken longer for programming bugs to get worked out, but now the festival's presentations overall are running smoothly. Megill does in fact have full responsibility for the Wednesday and Thursday "main" programs, respectively at Carmel Mission and Sunset Center, affording the first real opportunity to evaluate his impact.
One huge plus for festival patrons is the wide range of composers represented, including Weil's personal favorites: Haydn and Beethoven. Some years back, the marketing people began promoting the festival under the rubric "Bach and Beyond." Megill's Mission program includes works by Poulenc, Gesualdo, Richard Rodney Bennett and Randall Thompson. His Thursday program includes choral masterpieces from circa 1707 by the three 1685 "birthday boys," Bach, Handel and Domenico Scarlatti.
In this season alone, audiences can hear rare works by the likes of Johann Christoph Friedrich Bach, Dieterich Buxtehude, Wilhelm Hertel, Jean Joseph Mouret, Christian Pezold, Johann Heinrich Schmelzer, Tarquinio Merula, Luigi Rossi, Christopher Simpson, Tobias Hume, Nicholas Lanier, Louis Antoine Dornel, Jean Gilles, and many more. Even Fritz Kreisler pops up on a recital by violinist Emlyn Ngai.
The Carmel Bach Festival continues at various venues in Carmel and Pebble Beach through Aug. 4, with repeats of the first week's main programs in the second and third weeks. See www.bachfestival.org or call 831.624.2046.
Send a letter to the editor about this story.