July 18-24, 2007
home | metro silicon valley index | the arts | books | review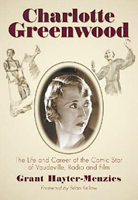 Charlotte Greenwood: The Life and Career of the Comic Star of Vaudeville, Radio and Film
(By Grant Hayter-Menzies; McFarland; 255 pages; $45 cloth)

Charlotte Greenwood burnished her little corner of the movie Oklahoma! as Aunt Eller, perhaps the most authentically Oklahoman character in the movie; Schulyer Crail's soulful still, retrieved by biographer Grant Hayter-Menzies, shows how much tensile strength this musical comedy actress had under her customary playfulness. Many stars believe that they could have transcended the limits the Industry put on them if only ... , but this sympathetic biographer makes a very convincing case that Greenwood was more than just a comedy spinster type. "The leg lift" was Greenwood's specialty, a ballerina's high kick done as a novelty dance; as Greenwood put it, "I was a goon from the waist up, glamour from the waist down." Teamed with the likes of Cesar Romero or Edward Everett Horton, Greenwood helped give many 20th Century-Fox musicals of the 1940s an extra kick. Those films are still around to delight, but the author also describes work lost in time. Greenwood enjoyed lasting popularity on Broadway; even at 60, she was playing the goddess Juno in Cole Porter's obscure and apparently very salacious musical Out of This World and was still able to do her trademark dance. Working from Greenwood's unpublished memoir, Never Too Tall, Hayter-Menzies brings up a trove of anecdotes about the star, who had a long, happy marriage bolstered by her faith in Christian Science. Maybe the best of these is the story of her demonstrating a leg lift at a luncheon with Eleanor Roosevelt; lurking nearby, Groucho Marx stage-whispered at the First Lady, "You could do that if you put your mind to it."
Review by Richard von Busack
Send a letter to the editor about this story.