July 18-24, 2007
home | metro silicon valley index | silicon valley restaurants | review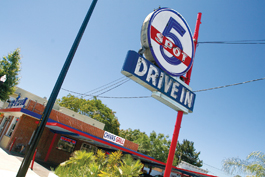 Photograph by Felipe Buitrago
Gimme five: A San Jose institution is back with a twist.
Spot On
A classic diner redefines the definition of 'American' food
By Stett Holbrook
THE recently reopened 5-Spot Chivas Grill is a study in the socioculinary evolution of downtown San Jose. It's also a cheap and good place to eat.
The iconic South First Street diner with its gleaming red and blue Art Deco sign opened in 1931 and quickly developed a local following. As car culture consumed America, it became the drive-in diner in San Jose. Big finned Detroit-made cars crowded the lot as kids converged on the place for burgers and malts. But in time the south-of-downtown neighborhood changed as residents left for the big lawns and two-car garages of the suburbs. The area skidded into decline and took on the grittier, abandoned feel that befell many once-thriving downtowns across America. The 5-Spot lost some of its luster and became a place for bad coffee and cheap breakfasts.
But immigrants from Mexico and Vietnam moved in and filled the void, and today the neighborhood is a scruffy but bustling place that has regained much of its vibrancy. For my money, the area has more soul and good food than the many shiny chain restaurants in the city's downtown core.
The 5-Spot closed in 2001, but the next year San Jose named it a historic landmark. It took one of the neighborhood's new business owners to reopen the place and take it into the 21st century. Rosa and David Silva, who own the excellent Mexican restaurant La Peñita just a few blocks away, have returned the diner to its former glory, albeit with a Mexican flavor. It's now called the 5-Spot Chivas Grill. Chivas, by the way, is an ode to Guadalajara's beloved soccer team. Memorabilia from the team covers the walls.
The brick-walled 5-Spot is a perfect mix of American food, past and present. The diner still serves classic American diner food, but since the restaurant's heyday American food changed. What is American food, anyway, but what a majority of Americans eat? With more than a third of California's population now Latino, cheesy enchiladas and fat burritos have become as all-American as hot dogs and burgers and the 5-Spot's menu reflects this convergence. Even before looking at the menu you know you're in a nuevo American place because the table is equipped with bottles of ketchup, A1 and picante sauce.
Your waitress will plop down a basket of tortillas chips and two kinds of excellent salsa as soon as you're seated. The plasma TVs mounted on the wall could be tuned into Oprah or a soccer match. The restaurant is filled with working-class locals as well as a few chow-savvy downtown professionals. The place is clean and inviting but not so gussied up that it reaches beyond its proletarian roots.
My first meal was breakfast, which, as with all good diners, is available all day. I went for the Mexican omelette ($8.25), a hulking half-moon of scrambled eggs loaded with carne asada and topped with jack and cheddar cheese and avocado. The rice and beans on the side instead of hash browns completed the Mexican-American experience. This is the kind of satisfying, belly-filling meal that will keep you fueled for hours.
La Peñita makes great soups and they're just as good at the 5-Spot. Caldo de pollo ($8.60) is clean but richly flavored chicken soup made with big chunks of chicken, carrots, squash and other vegetables. A generous squeeze of lime elevates the soup even higher.
Chile colorado ($7.95) is another winner. Made with tender, browned chunks of pork shoulder instead of beef, the namesake sauce is light and almost translucent and flecked with bits of dried chiles and oregano. It's much better than the gluey glop that passes for the stuff elsewhere.
For classic diner fare, the 5-Spot club sandwich ($6.99) fits the bill. The sandwich is piled high with thick slices of ham, turkey and bacon.
Any self-respecting diner has to make a good burger and the 5-Spot delivers. The 5-Spot burger ($6.49) comes on a toasted, mayonnaise-slathered bun with a thick slice of yellow onion, pickles, tomatoes and iceberg lettuce on the side. Romaine or green leaf lettuce would have been too uptown. The 1/3-pound patty arrives without a trace of pink but still juicy and flavorful. Ask for cheese and you'll get a slice of rubbery but strangely delicious American cheese.
Good french fries are another diner requisite, and the 5-Spot scores here, too. The thick-cut fries are light and crisp. My burger also came with a cup of tomato and noodle soup, a chicken broth–based soup known in Mexico as fideos. It's OK, but nothing special.
Oddly, there are no desserts, a requisite in my mind for a proper diner. This is America, and if people want to top their enchiladas and chili cheeseburger with a milkshake or slice of pie, that's their right. This being a new kind of American diner though, maybe flan or a slice of tres leches cake would be more appropriate.
---
5-Spot Chivas Grill
Address: 869 S. First St., San Jose.
Phone: 408.294.4979.
Hours: 7am–9pm daily.
Cuisine: Mexican-American diner.
Price Range: $6–$10.
Send a letter to the editor about this story.