July 18-24, 2007
home | metro silicon valley index | movies | current reviews | film review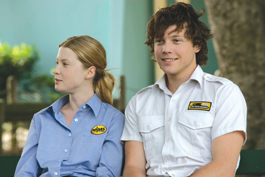 Photo credit: Daniel Smith © 2007 Goalpost Film Ltd.
Youth movement: Jill (Emma Booth) and Tim (Khan Chittenden) try to figure out how to escape the clutches of Tim's smothering mom.
Full Throttle
Brenda Blethyn tears through 'Introducing the Dwights' as a overbearing vaudeville mom
By Richard von Busack
I LOVE antique vaudeville: ventriloquists (the eerier the better); dyed, capped-toothed C&W singers; and Introducing the Dwight's Ronnie Ronalde, a celebrity whistler capable of imitating a flock of warblers in his rendition of "Mockingbird Hill." The Australian import (a.k.a. Clubland) adds to the mix of vintage acts with an aggro mom comic, Jean Dwight (Brenda Blethyn), currently playing nightclubs on the outskirts of Sydney—so that's where they all went. First-time director Cherie Nowlan's comedy/drama is mixed in feeling about how this legend-in-her-own-mind ought to be observed. Jean manipulates her two sons as if she couldn't find the word "inappropriate" in the dictionary. Second son Tim (Khan Chittenden) has been deprived of all resistance and ambition. He runs a one-man moving truck business, bankrolled by Jean's day job at an industrial kitchen.
Tim meets Jill (Emma Booth), a skinny strawberry blonde. Realizing that she's dealing with a virgin, Jill leads Tim through his first time with gentleness and patience. But then there's Tim's (s)mother, who refuses to cut the umbilical. Part of the problem, besides Jean's epic insecurities, hard drinking and feuds with the neighbors, is Tim's brother, Mark (Richard Wilson). Born brain-damaged, he needs near constant care. Family lore is sprinkled with unspeakable things that happened to Mark ("Remember that Kentucky Fried Chicken incident. Remember that Sea World incident ..." etc.). While Wilson's Mark serves the purpose of being the character who says what everyone else is thinking, he—like 99 percent of actors playing the mentally challenged in a movie—seems to be able to turn it on and off at will.
Introducing the Dwights bounces along at first. This Sydney has the ambience of L.A. movies in the 1970s, with has-beens from horizon to horizon. Unfortunately, we begin to feel more for the young couple than for the old dragon. This is due to Booth, another one of those remarkably assured actors as endemic to Australia as kangaroos. Nowlan's handling of the love affair is not just explicit but dry and perky; Booth's Jill nonchalantly blows her nose with a tissue that she previously used for a genital mop-up. I wonder why Nowlan didn't take this endearing lack of prudery further; a few scenes later, we see Tim's father (Frankie J. Holden)—a one-hit wonder in the 1970s—covering Conway Twitty's "You've Never Been This Far Before." Joining the too-much-information song with the love scene would have been a uniquely serio-comic way of looking at Tim's rite of passage.
Either Blethyn turns it up too high, or more likely, the other actors aren't up to her force. She plays Jean like an answer to Olivier's still-definitive vision of the vaudevillian as horror clown, Archie Rice. Blethyn goes full throttle, sobbing like a person trying to aspirate a swallowed frog. And yet Jean's idea of performing is being an Australian X-rated balloon clown, so someone involved in the film has a strange sense of perspective; despite some promising passages in this mostly pleasing debut, it seems to be Nowlan.

Introducing the Dwights (R; 105 min.), directed by Cherie Nowlan, written by Keith Thompson, photographed by Mark Wareham and starring Brenda Blethyn, opens July 20.
Send a letter to the editor about this story.