July 18-24, 2007
home | metro silicon valley index | music & nightlife | feature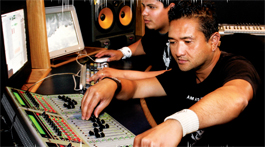 Photographs by Felipe Buitrago
Tool time: Samuel Orozco II and John Roselada, a.k.a. Iklectix, use ProTools to handle much of the production of the new high-tech Studio Haven in downtown San Jose.
Monster in a Box
Technology has torn the music industry wide open, and a new generation of laptop producers have swarmed in to fill the vacuum. From cutting-edge Silicon Valley professionals who have compressed an entire state-of-the-art studio into their computer to our own writer's frightening attempt to make Trent Reznor sound like a woman, music is now anybody's game.
By Mike Connor
BACK in 2005, Trent Reznor, frontman of the gloomy industrial rock band Nine Inch Nails, undertook an experiment. He decided to let his fans dissect one of his songs and reanimate it as they pleased, offering it as a raw, multitrack file formatted using Garageband, the user-friendly music editing software that comes with every new Apple computer (including the iBook G4 I'm using to write this story).
The track is still available as a free download, and even comes with a cheery letter from Trent himself—the guy famous for misanthropic lines like "Gray would be the color if I had a heart" and "I'm gonna burn this whole world down"—urging us to "Have fun."
"For quite some time I've been interested in the idea of allowing you the ability to tinker around with my tracks," explains Reznor, "to create remixes, experiment, embellish or destroy what's there."
"Change the tempo," he suggests. "Add new loops. Chop up the vocals. Turn me into a woman. Replay the guitar. Anything you'd like."
Turn Trent into a woman? I've got the software to do it, but the one and only time I opened GarageBand a year or two ago, I freaked out when a keyboard popped up on my screen. Faced with the prospect of pointing to and clicking notes with a mouse while the computer recorded my progress, I sensed impending embarrassment and quickly closed the program.
But resexing Reznor sounds fun, so I download the file and get to work. My screen is filled with 17 tracks represented by little pictures of guitars and synthesizers. As I click around, I find what seem like endless menus and options. Still, I find the task surprisingly easy, so I fiddle with the tempo and add a bit more cowbell. OK, a lot more cowbell. In the end, the song becomes an orgy of something I like to call "megacowbell." The result sounds terrible.
But after spending 20 minutes with the program, I feel a surge of confidence, so I try making my own song—going for a dancy beat with a trashy Jon Spencer Blues Explosion kind of feel followed by an airy Euro-trash techno interlude—which I finish in about three minutes. It sounds much, much worse than SheTrent, and it dawns on me why there's so much bad music in the world these days—because it's so freaking easy to make.
Gone are the days when studios with millions of dollars worth of analog equipment were the only places to make a decent recording. Now most studios are mixing "in the box." Once a sound has been digitized, it can be endlessly manipulated, and contemporary software is capable of flawlessly emulating analog effects—most of which can be done on any decent laptop.
Starting from scratch, a grand will get you a new Macbook, which comes with the GarageBand software and has plenty of processing power. A couple mics and a preamp later and you've got yourself a mini studio, where you are free to create some chunky, malformed turds of music that suck almost as bad as my Jon Spencer Crap Explosion. Just because anyone can afford a canvas and some oil paints doesn't mean we can all paint masterpieces. No offense.
But to be fair, it's also much easier and cheaper to make great music. Bad, good and great music are all part of the "user generated" digital revolution that is enabling anyone with a passion for making music to produce their own stuff—without quality control, but also without compromise. When it comes to music, we are all Dr. Frankenstein.
This revolution is happening at an interesting time—namely, at the same time the record industry falls slowly on its face, having been tripped up by peer-to-peer file sharing and never quite regaining its footing. In Rolling Stone's Reznor-worthy gloom-and-doom story about the subject, ominously titled The Record Industry's Decline: Record sales are tanking, and there's no hope in sight—How it all went wrong, Brian Hiatt and Evan Serpick sling quotes about the death of major labels and the record industry as we know it, using statistics about plummeting CD sales as proof. It's filled with entertaining speculation about what the majors could have done when first faced with Napster, the file sharing beast that, once beheaded, spawned hundreds of nimbler imitators that evaporated industry profits.
Most people who aren't directly a part of the music industry don't care about any of this, taking it as a matter of faith that while the record industry might die, there will still be music and concerts and rock stars and washouts. Some people are born to sing with histrionic abandon, others to watch rapt in voyeuristic bliss, and all but the walking dead love some music. Just because Sony closed their studio in New York—just because the sky is falling for the major labels—doesn't mean the art of music is going anywhere. But when the majors are gone, who will make it? The beautiful answer is: anyone who wants to.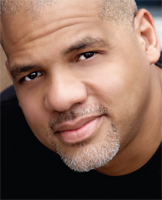 Thinking inside the box: For producer Tony Shepperd, the technological turning point came when he used ProTools for a Backstreet Boys mix, and no one noticed.
All Play
The character of the dying record industry model is decidedly patriarchal: bands need the help of the major labels to navigate the complex infrastructure of the music business. Without daddy record label, the expensive resources of widespread distribution, avid promotion, an excellent studio and high quality production are out of reach of the average band.
Now, as that infrastructure literally crumbles into pieces, there are choices.
"I think technology has allowed amateurs and professionals basically the same tools, so basically they're on the same playing field," says Merl Saunders Jr., senior executive director of the San Francisco Chapter of the Recording Academy (the folks who do the Grammy awards). "Amateurs can put just as good a product out of their house."
More importantly, even the professionals are packing up the studios and going home—to the studios that are now in their garages. Indeed, for every major studio that closes, there are probably a dozen small studios armed with tens of thousands of dollars worth of hardware, software and priceless expertise popping up in their place.
According to Tony Shepperd, an L.A.-based audio engineer who mixes for mega-acts like Whitney Houston, Kenny Loggins and the Backstreet Boys, the turning point for mixing in the box came about six years ago during a perfect storm of technology and despair.
"It was a case of technology hitting happenstance at a time when the industry just cannot seem to crawl out of the depths of the despair that they're in," says Shepperd. "Five, 10 years ago, there were not such things as great plug-ins for ProTools. Sonically, the whole palette of plug-ins has improved by leaps and bounds. And when you have budgets that are sliding off the edge of the cliff, major commercial rooms are practically nonexistent anymore."
Shepperd's personal turning point came when he came up against a deadline for a Backstreet Boys mix. He did it using ProTools and no one knew the difference. "That may have been the defining moment, says Shepperd. "I said, you know, if they don't know the difference, then perhaps it's OK to walk down this road a little bit."
As recently as five years ago, many die-hard analog engineers were still skeptical of the quality of the fancy new digital tools.
"I thought, 'They'll never make a digital system that sounds like this 24-track analog machine,'" says Bruce Tambling, a former studio owner who now teaches digital music production at Foothill College. "But little by little, it got to the point that they sounded literally exactly the same. You could A and B them in a blind test, and experts would throw up their hands and say, 'They sound equally good.'"
Tambling responded by selling all of his outboard gear and became one of the first ProTools expert-level instructors.
"What Bruce did is he put himself out of business with regards to people going to his analog studio," says Sam Orozco, a client of Tambling Sound, and later, a student of Tambling the ProTools instructor. "He saw a shift in the industry himself, so he went from really having a recording studio to using his knowledge and experience as a trainer and an educator. ... People have completely gone out of business, whereas Bruce saw the elephant coming and he jumped on it and has been riding it in front of everybody. He created a whole new business model."
If there's one thing most people in the music industry agree on, it's that it needs new business models. So far, Tambling's is working for him.
"I think there's more opportunities than ever to create music and be successful," says Tambling. "It hasn't slowed my career down at all—I don't own as much gear and I'm happy about that. Probably this equipment is going to be on your wristwatch at some point."
Knight Rider futurism aside, Tambling's flexibility and willingness to turn a corner in his career have allowed him to sidestep the terrible fate portended by the majors.
"I would guess that about 80 percent of the big studios have closed," says Tambling. "Some people say the sky is falling, but other people see it as an opportunity to repurpose their skill sets into the ProTools 'mixing in the box arena'; I had to relearn how to mix with a little mouse, with that engine, with the subtleties of the way a digital environment responds."
And now he's taught former clients like Sam Orozco how to do it, too. Sam and his younger brother Paul just relocated their garage studio to a 1,000-square-foot space in downtown San Jose, at Second and San Fernando, located directly above Iguana's, their family's business. The newly christened Studio Haven is remarkably spacious given its relatively modest square footage and fully functional recording and engineering capabilities.
Much of the production work is done by Iklectix, a two-man team comprised of Samuel Orozco II and John Roselada, who work on projects ranging from indie movie soundtracks and building sample libraries to working with Henry Mancini's grandson Luca and the local rapper Royalty. Thanks to ProTools, they also occasionally do remixes.
"We've taken other peoples' projects and revamped it," says Sam, "because as far as the software we use, it's the universal software. We just recently worked on a project for Howard Hewett from Shalimar, did a mix here, but his L.A. counterpart said he wanted an 'L.A. mix,' so we just sent 'em the files and they created their own mix based on our production. Technology doesn't get in the way; it's really an enabler for people to work together."
The World Is Flat
For some session musicians, the software has made it absurdly easy for them to work. L.A.-based bass guitar player Reggie Hamilton has been doing session work for almost 25 years, but refers to the last two or three as a "brave new world." He moved to a particular part of L.A. just to be close to the major studios, many of which have closed.
"Enterprise is closed, O'Henry's closed, Cello is closed, Devonshire has closed," says Hamilton. "They were all five minutes from my house."
It may sound dismal, but he isn't worried.
"Oh, I'm a true believer," says Hamilton, who can cut a bass line in a South African hotel room just as easily as he can do it in the comfort of his own home. "Why leave my house if I can do it in my bunny slippers?"
Likewise, Curtis Bisquera needn't walk any further than his living room to cut a drum track.
"I have the top-of-the-line microphones and mic preamps and a nice recording drumkit that I use," says Bisquera. "I just set 'em up right in my living room; my living room has a nice sound to it so it works out perfect."
Some spouses might object to a recording studio in the living room, but Curt's wife is a professional vocalist and uses the setup for her own work.
"Our neighbors seem to be very cool about it," says Bisquera. "They haven't complained yet."
Still, the ease with which tracks can be created also means that ambitious producers can do more without session musicians. But at least in Hamilton's experience, the technology makes a quality bass player relatively affordable anywhere.
"Let's say you have a songwriter or a producer that has a decent budget," says Hamilton. "I can record in L.A., and usually what happens is a fellow will send a stereo mix, a chart. I'll put it into ProTools, record my bass part, maybe record an alternate, send him the files back and he wires money into my account. Gotta love that."
Tambling points out that the new working environment is not only more comfortable, it's also completely portable. If he wants to learn how Tony Shepperd gets that "TONYSOUND," he doesn't have to fly down to L.A. to look at the mixing console; all he has to do is convince Shepperd to send him a song, which he can open up and examine every manipulation, every effect.
"It's like having a piece of master art, an oil painting that I can dissect brush stroke by brush stroke," says Tambling. "That kind of opportunity is a great example of how ... 'mixing in the box' has totally transformed the opportunities we have; everybody operator has their own bag of tricks and their own style. By studying works of other people, you can put together different approaches with your own work."
As more technicians get comfortable using laptops instead of mixing boards, the technology is being adopted by live music engineers as well. We're not talking about pitch correction on the fly—talentless singers will still have to either suck or do the Ashley Simpson and hope the prerecording doesn't skip. But for bands that use a lot of effects in their music and want to re-create that sound live, their only limitation is the skill of their mixing engineer. Unsurprisingly, Nine Inch Nails mix engineer Jim Warren started using DigiDesign's Venue software and has since gotten rid of all his outboard gear to process the band's sound.
All the angst at a fraction of the touring cost?
Priceless.
Hear Mike Connor's terrible song right here on this page really soon. For hot pro-on-pro music action, check out www.techbreakfast.com.
Send a letter to the editor about this story.