July 18-24, 2007
home | metro silicon valley index | the arts | books | review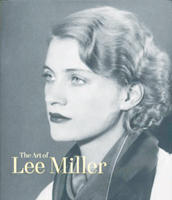 The Art of Lee Miller
(By Mark Haworth-Booth; Yale University Press; 224 pages; $60 cloth)

Blessed with both supernal beauty and a superb eye, Lee Miller became an international surrealist muse, an embodiment of Art Deco fashions and a world-class photographer and photojournalist. For the centennial of her birth (in Poughkeepsie, New York), Yale University Press has issued a lovely coffee-table survey (with text by photography professor Mark Haworth-Booth) of Miller's amazing career. The phrase "body of work" serves a double function for Miller, who posed nude for her amateur photographer father; whose face graced the cover of Vogue as a flapper avatar when she was 20, after a serendipitous encounter on a New York street corner with publisher Condé Nast; who modeled for Edward Steichen's fashion ads and Man Ray's solarized portraits; and who played a living statue in Jean Cocteau's Blood of a Poet. Moving to Paris, she apprenticed with (and made love to) Man Ray and created many evocative photographs: strangely angled cityscapes, pregnant close-ups of odd objects (in one example from 1930, a skein of liquid asphalt approaches a man's feet as if to consume them) and portraits of celebrities from boxer Gene Tunney to artist Joseph Cornell. A brief marriage took her to Egypt, where she defied society's conventions to take some startling images, including the shadow of the Great Pyramid thrusting across a three-banded landscape of excavations, houses and fields. Usefully, the book shows Miller's process of composition for some famous images with various states of negatives and contact sheets, revealing how radical her cropping could be. During World War II, Miller was a pioneer female war correspondent, dispatching photo essays for Vogue (!) on the liberation of Paris, the siege of St. Malo and the discovery of the concentration camps in Germany. The book forms an excellent companion to Santa Cruzan Carolyn Burke's excellent 2005 biography, Lee Miller: A Life, just out in a paperback from the University of Chicago Press.
Review by Michael S. Gant
Send a letter to the editor about this story.