July 18-24, 2007
home | metro silicon valley index | music & nightlife | preview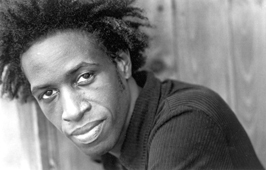 Hip-Hop Prophet: Saul Williams performs Friday at the Grand Slam finals.
Youth Slam
Youth Speaks' 'Brave New Voices' international youth poetry slam finals come to San Jose
By Garrett Wheeler
WHEN Rafael Casal delivers his spoken-word piece "Barbie & Ken 101" on the 2002 Def Jam Poetry video, it's clear that the then-19-year-old Berkeley native has as much of a grasp on the grim realities of social construction and negative stereotypes as any Ph.D.-wielding sociologist.
Call it what you will: hip-hop, spoken word, slam poetry—the type of lyrical presentation embraced by Casal and his contemporaries in the Youth Speaks organization is not concerned with being easily marketable. This is not 50-Cent commercialism or any kind of corporate scheme. This hip-hop is real—it is the essence of street-smart poetry that concerns itself with social change and artistic growth.
As Youth Speaks program director Jason Mateo puts it, "This is bigger than MTV or BET; this is the ultimate youth movement."
Beginning July 17, the nation's hottest young poets will converge in San Jose for a chance to compete against their peers and earn a spot in the Brave New Voices International Poetry Slam finals on Friday, July 20, at the California Theatre (345 S. First St., San Jose). Getting to the finals is no easy task—the 340 competitors first have to duke it out in preliminary quarter-final rounds on Thursday. Those who qualify will then throw down in the semifinal rounds (held Friday morning at San Jose Rep, 101 Paseo de San Antonio, San Jose) before earning a ticket to the big dance, the Friday night finals. "These young poets are going to be on their A-game," says Mateo. "They are the cream of the crop, coming together in one location to share their own personal stories while building a strong community."
In all, the festival features 23 events held in 11 different San Jose venues.
Youth Speaks is a nonprofit organization that began in 1996 as a way for young people to express themselves artistically while bringing about social and political change. Based in San Francisco, Youth Speaks now extends across the country, providing a creative outlet for young people nationwide. "We are creating a literary generation that is contributing to the important conversations about politics and culture," says Mateo of the Youth Speaks organization. "It's all about expressing activism."
The festival hits the streets Wednesday night at a free block party on South First Street, hosted by Michelle Lee and Mike McGhee. The bash will feature performances by Femi and Butterscotch on an outdoor stage as well as an MC jam with local DJs and beatboxers.
Though the event is geared toward the youth population, elder poets will provide the guidance and mentorship so valuable for the young artists. Youth Speaks veteran Marc Bamuthi Joseph will be a special guest MC for the Grand Slam Finals. Now acting as program director for Youth Speaks, Joseph was featured on Russell Simmons' Def Poetry Jam in 2003.
Also appearing at Friday's Grand Slam Finals is today's face of spoken word, Saul Williams. After gaining international recognition for his jaw-dropping verses in the mid-'90s, Williams successfully merged his lyrical talent with music, creating a batch of powerful and artistically brilliant hip-hop albums. Williams will perform live at the Grand Slam Finals, setting the stage for the younger acts to follow.
In addition to the competition, the festival includes a variety of workshops led by some of the nation's top poets and spoken-word artists, giving contestants a chance to sharpen their skills with the pros. The free workshops will focus on the writing aspect of spoken word. "Workshops help facilitate the creation of literary work, and connecting young folks with the artists is a magical dynamic," says Mateo.
The week's events will conclude Saturday night at the Center for Employment Training (701 Vine St., San Jose) with "Bring the Noise," a benefit concert hosted by rapper Lyrics Born and including performances by Cody ChestnuTT, Martin Luther, and Zion-I and DJs Funklor and Echo.
For more information, visit www.youthspeaks.org and www.brownpapertickets.com.
Send a letter to the editor about this story.