July 19-25, 2006
home | metro silicon valley index | silicon valley restaurants | review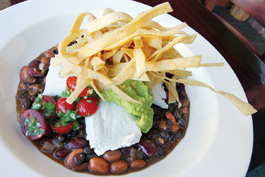 Photograph by Felipe Buitrago
Have It Our Way: The goat cheese tamale is among the inventive and quirky items at James Randall.
Memory Served
Sister and nephew remember James Randall with Los Gatos restaurant that would have made him proud
By Stett Holbrook
YOU CAN'T help but be charmed by Restaurant James Randall. The small, 24-seat downtown Los Gatos restaurant occupies a North Santa Cruz Avenue storefront that looks and feels like dining in someone's living room with its hardwood floors, fireplace, Oriental rugs and eclectic, if rather disparate, art on the walls. A photo of executive chef Ross Hanson triumphantly hoisting his California Culinary Academy diploma hangs in the hall opposite the restroom. Lunches are served with a chewy chocolate chip cookie on the side. After your meal, the bill is presented in a simple paper folder with a peacock feather attached to the front. Out front, there's a little herb garden.
And then there's the backstory of the restaurant itself. Hanson, who cooked at San Francisco's Firefly and Harmon's Depot in Telluride, Colo., mans the kitchen while his friendly mom, Brenda Hammond, runs the front of the house. Mother and son had worked together in a catering business, but they really wanted to run their own restaurant. When Hammond's brother passed away about 10 years ago, he left her some money, telling her to do something with it she really wanted to do. So she did and named the restaurant after him.
The food has its charms as well. Restaurant James Randall opened for lunch in March, but has been serving dinner for just over a month. The changing menu of food is described as "California comfort food" and the term fits. It's a mix of American, Asian and Mexican-inspired dishes made with mostly seasonal ingredients served in hearty, satisfying quantities.
Lunch finds the restaurant at its most relaxed. The menu offers a short list of salads, sandwiches and a few entrees. I liked the gem lettuce salad ($10), a fresh jumble of romaine lettuce, green grape tomatoes and cucumber in a blue cheese dressing. But "gem" lettuce usually refers to baby butter lettuce so the romaine threw me.
The grilled eggplant and summer squash sandwich ($10) seems to embody just the kind of food Hanson is going for. The beefy sandwich was served on a ciabatta roll and slathered with creamy goat cheese and pesto aioli. The freshly grilled vegetables gave the whole package a hearty wholesomeness. But I was less impressed with the wild mushroom and cheese enchilada ($13.50). The tortillas were a bit soggy and the filling unremarkable. I liked the black beans served with them, though.
On another lunch visit, the "bubba burger" ($13.50) really hit the spot. The fat and juicy burger was cooked a bit past my requested medium rare (and I had to tell my waiter I wanted it medium rare; he didn't ask) but the thick bacon, tangy cheddar cheese and crisp "tobacco" onions sandwiched between a crusty sour dough roll made for a really enjoyable sandwich. I was about to ask for ketchup and mustard when I tasted the good tomatoey mayo served with it.
Before my burger I had a great cup of chicken tortilla soup ($6). The pale terra-cotta-colored soup was light and creamy and flecked with bits of dried chile. While there was no chicken in evidence, the soup was refreshing and rich at the same time and piqued my appetite for the big burger.
Desserts aren't available with lunch, but the aforementioned chocolate chip cookie is plenty. It's big and chewy and loaded with bittersweet chocolate chips.
Service is friendly but pretty green and seems to be dominated by recent high school grads. Questions about the menu send waiters back to the kitchen or in some cases are met with short, less than helpful responses. James Randall is a casual restaurant, but that doesn't mean the servers shouldn't take learning about the menu more seriously.
The wine list is short but has a number of good, reasonably marked up wines. I was impressed too with the Riedel stemware. It's a classy touch.
Dinner is more refined. To start things off, I went for the tempura sushi roll appetizer ($12), ahi, avocado and macadamia nuts rolled in a rice and seaweed roll and then flash-fried. Good stuff. The classic Caesar ($8) was less than classical, just a small mound of romaine lettuce with a timid dressing and a single big crouton. The goat cheese and golden beet appetizer ($7.50), a classic California cuisine pairing if there ever was one, looked incomplete on the plate: a scattering of cubed beets, a crumbling of goat cheese, an deep green arugula purée and a scattering of well-toasted pine nuts. It looked like it wanted to be a salad but needed a little more vegetation or perhaps toasted bread to pull it off. The beets themselves were pretty staid. A hit of champagne vinegar or lemon juice could have livened things up.
Entrees were stronger than the starters. Pan-seared halibut ($25) is a lesson in the pleasures of excellent ingredients simply prepared. A golden-crusted fillet of the bone white fish is served atop sticky, soybean-studded sushi rice alongside sautéed baby bok choy. The black-sesame-flecked ginger beurre blanc offered a great match for the fish and vegetables.
I loved the spoon-tender roasted duck ($26) too. The breast meat is fanned out across rich cauliflower mashed potatoes and an intriguing mix of endive and fresh blackberries. However, the onion rings that topped the dish seemed a bit incongruous.
Some of the choices on the dinner menu are a little odd for a place that touts its seasonal California cuisine. I enjoy meatballs as much as anyone, but serving them as a stand-alone appetizer is the wrong place for a rather heavy item like this. And I like truffle oil-tossed Brussels sprouts too, but serving this hearty, cold weather vegetable in the dog days of summer feels as out of place as a fur coat at a beach party. The same goes for the cauliflower mashed potatoes. They're creamy and good but a little too heavy for July.
I loved the Grand Marnier chocolate truffle tort ($9.50), a multitiered dessert that had a tough-to-penetrate chocolate core, but once I dug through it, it was a deliciously rich dessert with a restrained sweetness. The coconut-flavored rice pudding with cherry compote ($7), served in a cocktail glass, was creamy and good but didn't match its rather high-style presentation. It's still just rice pudding.
In a less homey setting, without the personal touches of a family-run restaurant, Restaurant James Randall would be just another upscale California casual restaurant. But the restaurant's quirky charm sets it apart from the downtown Los Gatos crowd of restaurants. I bet the late James Randall would be proud of what his nephew and sister have accomplished.
---
Restaurant James Randall
Address: 303 N. Santa Cruz Ave., Los Gatos.
Phone: 408.395.4441.
Hours: 11am-2:30pm and 5:30-9:30pm Tue-Sun.
Cuisine: California
Price Range: $20-$28.
Send a letter to the editor about this story.