July 19-25, 2006
home | metro silicon valley index | music & nightlife | preview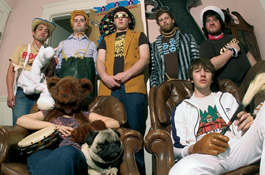 Laconic Youth: San Jose indie folk band the Mumlers get dressed in the dark.
Ramble On
Winning the Bleeding Edge Festival contest may affect the Mumlers' status as San Jose's best-kept secret.
By Todd Inoue
THIS SPRING, the Bleeding Edge Festival and ZeroOne announced a national juried competition where indie rock, experimental and electronic artists were invited to submit recordings for consideration. Two winners would perform at Bleeding Edge (with 20 bands on four stages including Matmos and Zeena Parkins, ISIS, Tim Hecker, Skoltz Kolgen, Frank Bretschneider, Portable, Frivolous, Yo La Tengo, Greg McGrath, the Chemistry Set, Robert Stillman's Horses, Luke Temple, The Avett Brothers, Luther Russell, Brightblack Morninglight, Black Dice and Sunroof!) in Saratoga and enjoy a two-week recording session at SnowGhost Sound Studios in Montana.
The winners were announced two weeks ago, and the pool was deep enough to allow more contest participants on the spoils of victory—Seattle's Obelus, Berkeley's the Morning Benders and Santa Clara's Corpus Callosum. The fourth recipient of the two-week recording session in Whitefish, Mo., went to San Jose band the Mumlers. Often compared to Calexico and Belle & Sebastian for its indie/folk transfusion and offbeat instrumentation, the Mumlers' self-titled demo is a simple affair, consisting of five songs draped in impressionistic shapes and tones. The rub is that the Mumlers is still a relatively unlikely—if not unknown—entity. As one of the winners, the Mumlers will be able to take its reel-to-reel operation into a professional studio for an unrushed appraisal.
Robert Crouch and Brett Allen curated the Bleeding Edge festival and contest and were drawn by the Mumlers' lyrics and arrangements. "We have everything from electronica to avant garde music and we have songwriters," says Allen. "I wanted one band from the contest that represented the songwriting. The Mumlers have really good lyrics and creative arrangements."
William Sprott is the Mumlers' principal songwriter. His musical heroes include Booker T. and the MG's, Bobby Bland and dry wits Leonard Cohen and Tom Waits. "I can't listen to the radio; it makes me feel bad," Sprott, 25, says. "It seems people wrote better songs and recorded better back then."
In his songs, Sprott makes observations with a tender, yet absurdist wit and sings with a woozy grace. The voice and music amble along in an unrushed pas de deux. He describes "Hush" as a breakup song. "The Hinge's Lament" showcases Sprott's baritone, backed by acoustic guitar. "Red River Hustle" came from watching the comings and goings inside a Winnebago that would park in front of his window at the corner of Ninth and Reed.
"All these shady guys would pull in and out and then it would take off for a week," he says. "There was a house of transvestite prostitutes. Across the street, looking out the window, was just like watching an episode of Cops."
With material like that, it's possible to believe the Mumlers moniker is a reference to the babbling that happens at all hours on the corner. Instead, the band name is a reference to William H. Mumler, a photographer who sold photos he alleged had images of ghosts and spirits. In Mumler's fraud trial, P.T. Barnum testified that he bought Mumler's photos to include in an exhibition of humbuggery. The case was dropped, but Mumler was never able to recoup the hefty legal fee, ultimately destroying the negatives before his death in 1884.
The Mumlers, in the spirit of both the O.G. Mumler and Barnum, use a wide array of vehicles to arrive at its destination of satisfying humbug The Mumlers are musically omnivorous, devouring instruments like the chord organ, glockenspiel, euphonium, tambourine, French horn, cello, toy piano, synthesizer, trombone, maracas and Wurlitzer along with the piano, bass, drums and guitars.
Felix Archuleta is considered the band's savant—able to pick up foreign instruments and eke out favorable sounds and tones. With all the accumulated exotica, Archuleta acknowledges the need to scale back. "Sometimes, being with that many people, things get cluttered," explains Archuleta. "We have to say, 'You need to drop out,' but we try not to step on each other's creativity."
Percussionist Mercedes El Vencere played in a tambourine band in church and found inspiration in the Mumlers' musical vision.
"I like that everybody in the band are musical geniuses," she says. "That keeps me in awe. They can pick up any kind of instrument and make it sound awesome."
"It's kind of like a conflicting thing," adds Sprott. "We like all these big, weird sounds you don't hear in rock & roll bands—French horns and cellos—but it's also real simple music. It's like folk music played with people doing weird stuff, really."
The Mumlers began as a loose association between Sprott, Archuleta and drummer Andy Paul. They became friends at San Jose City College's Project Advance program ("You graduate with honors and you graduate early," explains Archuleta). They found a common interest in noncontemporary music. They originally called themselves the Balloons before adding more people and settling on the Mumlers. Other members include Paolo Gomez on bass, John Muller on lap steel guitar and J.F. Holmes on French horn and guitar.
The Mumlers make serendipitous sounds for the Tape Op set. For the ending of "Hush," Muller streamed the song through his home radio station setup and fiddled with the dial to produce between-channel static. A French horn enlivens the tales from the shady side on "Red River Hustle," while a toy piano plinks out a joyful melody on "Curtain Crawl." They are in the middle of mixing eight new songs and a redo of "Hush" for its next CD—recorded on reel-to-reel and converted to ProTools—before packing up for their big trip.
The Bleeding Edge win is a high honor for a novel San Jose band that has sold a few hundred CDs and been awarded a couple spins on college radio. Since forming over a year ago, the Mumlers have only played eight shows and the current standard of measurement for popularity—MySpace friends—is locked on a scant 309. The iconoclastic nature is apparent in its ignorance of current musical trends and San Jose's music scene. Heck, Sprott doesn't know many of the bands playing Bleeding Edge, but he does express some peripheral knowledge about this villa called Montalvo.
"I know Chuck Berry and Little Richard played there, so it's got something going for it."
The Mumlers play the Bleeding Edge Festival on Aug. 13 at Montalvo's Main Villa Hall. Tickets are $50 and available through Ticketmaster. For more info on the Mumlers, visit www.myspace.com/themumlers.
Send a letter to the editor about this story.