July 19-25, 2006
home | metro silicon valley index | music & nightlife | band review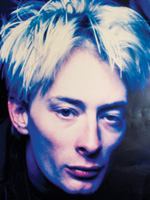 Eraserhead: Thom Yorke would be a good subject for a 2006 Nagel print.
Days of Yorke
Radiohead's Thom Yorke just can't erase his electronic fetish
By David Sason
FOR Radiohead fans who dropped off when OK Computer's catchy, atmospheric prog-rock was replaced by the electro-tinged experimental drone of 2000's Kid A, the perpetrator has been found: frontman Thom Yorke, who just released his solo album, The Eraser.
Those hoping for the acoustic guitar- and piano-playing Yorke heard at the Bridge School Benefit a few years back will be let down, because musically his new record may as well be named Kid B. But while it's filled with the same repetitive, extended vocal refrains, otherworldly ambience and circular melodies, The Eraser's flashes of convention suggest that Yorke's immersion in electro-jazz fusion may be over.
Produced by Nigel Godrich, the album opens in familiar territory on the title track, with a bell-like piano line hovering before the challenging, awkward rhythm of computer blips. The key difference is that you can actually hear Yorke's voice again, no longer drenched in reverb. "The more you try to erase me, the more that I appear," his falsetto warbles in the pleasing, hooky chorus. The singer's high-pitched crooning at the song's end sounds almost uncomfortably bare.
While still filled with images of corruption, modern decay and technologically induced detachment, Yorke's famously pessimistic lyrics lighten up just a bit here, especially on the subdued "Atoms for Peace." "I want you to get out and make it work," he sings gleefully amid a bouncy, synthesized bass melody as catchy as a children's song. When he playfully commands "Peel all of your layers off/ I want to eat your artichoke heart," you can actually hear him smiling. Yorke's words also imply a new sense of artistic abandon, most notably in the downright danceable "Black Swan." Considering the constant jabs at Radiohead for being pretentious, it's difficult to ignore lines like, "You have tried your best to please everyone/ But it just isn't happening." And he seems ready for his next career phase, when he insists, "You cannot kick-start a dead horse/ You just cross yourself and walk away."
Radiohead's 2003 effort, Hail to the Thief, showed the band trying to rock despite some withdrawal from its recent excursions, and The Eraser seems Yorke's final relapse. The handful of new songs being played on the band's current tour (which recall the caustic guitar crunch of its mediocre debut album) certainly suggest the back-to-basics set may soon arrive. But since Kid A is arguably this generation's Sgt. Pepper, let's hope Radiohead makes some Abbey Roads after its Let It Be, because its singer just found a way to make its electronic urges snap, crackle and pop.
Send a letter to the editor about this story.