07.22.09
home | metro silicon valley index | columns | silicon alleys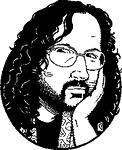 Silicon Alleys
Reality Tours
By Gary Singh
IN MARCH 2006, I grumbled in this column about San Jose's lack of literary masterpieces that take place in the gritty underbelly of this city. At that time, the movie version of John Fante's 1939 novel Ask the Dust was finally emerging. Fante was the quintessential downtrodden Los Angeles pre-Beat-era scribe, beautifully depicting the wreckage of '30s-era skid-row L.A. in his books.
Fante's rigorously honest voyage through the cheap hotels, the dive bars and the squalor of the City of Angels was the main influence on Charles Bukowski, everyone's favorite hard-drinking, tell-it-from-the-gut novelist. It was Buk's screaming and yelling that convinced Black Sparrow Press to finally rerelease Ask the Dust in the late-'70s. Reading Fante's stuff just makes one want to visit L.A. and explore the underbelly and all the grimy locales he talks about in the books, which is precisely what Bukowski did when he first read Fante's stuff.
In that column, I contemplated what San Jose would be like if we had an equivalent novelist who wrote about the wonderfully seedy underbelly that lurks here. Would said novelist finally put this town on the map? Would people come here just to look for the dive bars, the abandoned porno theaters, the vacant buildings, the freeway underpasses and the rundown strip malls that said author incorporated into his works?
If so, should the San Jose Convention and Visitors Bureau hold bus tours of the underbelly—that is, paid sightseeing expeditions taking folks to all these places? At the time of that column, there did not exist officially sanctioned John Fante underbelly tours of L.A., so I was inspired by such an idea.
Well, guess what? In May 2007, a company called Esotouric began staging paid bus tours of lost and forgotten L.A. locales, including neglected neighborhoods, fringe occult sites, noir literary history and the dark urban underbelly of the City of Angels. Initially beginning as an offshoot of an L.A.-based crime history blog, Esotouric tours now come in a variety of flavors. Here are a few: "Raymond Chandler's Los Angeles: In a Lonely Place" takes riders through specific downtown locales that appeared in Chandler's fiction. Another twisted romp, "Reyner Banham Loves Los Angeles: The Many Downtowns," explores the entire history of downtown L.A.'s architectural degeneration and urban decay in the mid-20th-century straight up to its current turnaround, all based on the British architecture critic's classic work, Los Angeles: The Architecture of Four Ec ologies. Erik Davis, author of The Visionary State: California's Spiritual Landscape, leads the Visionary Hollywood tour, in which riders are taken to various sites of fringe spirituality, such as the Aetherius Society, a bizarre center for cosmic consciousness and healing founded by UFO "contactee" Dr. George King in the 1950s.
Speaking of Fante especially, the latest installment of the "John Fante: Dreams of Bunker Hill" tour takes place this weekend, taking attendees through the book of the same name, along with Ask the Dust and other novels Fante placed in neighborhoods that don't exist anymore. The website includes alluring descriptions: "Please join us as we follow in his footsteps, to the Goodwill store, King Eddy's, Clifton's Cafeteria ("pay what you can"), the Los Angeles Library's Reading Room and the Post Office Terminal Annex (important landmarks for Bukowski and Fante), and other evocative scenes of old L.A."
Even better, this time around the Fante tour includes a few special guests. Fante's son, Dan, an acclaimed author himself, is currently working on a memoir about his relationship with his father and will read poems about John Fante. Dan will join his sister, Vickie Fante Cohen, on the bus to follow in their father's footsteps and answer questions from his fans. It doesn't get any better than that. As a result, I have no other choice but to continue this dissemination next week. In part two, I will report on the John Fante bus tour directly from the City of Angels. Sometimes you just have to leave town to get inspired.
Contact Gary Singh or send a letter to the editor about this story.