07.22.09
home | metro silicon valley index | columns | live feed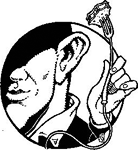 Creamy Buzz
By Stett Holbrook
LIKE MANY Silicon Valley high-tech workers, San Jose's Sheri Tate dreamed of leaving the world of cubicles and long boring meetings to start her own business. As a marketing and product manager for various technology firms, she figured that her business would be high-tech related. Instead, she went a more low-tech but far tastier route—superpremium ice cream.
Tate founded Silver Moon Desserts after discovering an untapped niche in the premium ice cream market: ice cream and sorbet infused with alcohol. She says she got the idea from her mother, who would drizzle a little Bailey's Irish Cream or Chambord on ice cream for special occasions. She continued the tradition with family and friends. "The response was amazing," she says. "That was the beginning of a hobby for me."
After doing market research and product development, Tate left her corporate gig for good last year and dived into the ice cream business full time. The idea behind her products is to give you dessert and an after-dinner drink in one.
Alcohol, as you may know, doesn't freeze, but Tate says she's come up with a proprietary method to do just that at her Belmont production facility. The lids of her ice creams and sorbets state you must be 21 to purchase—which is kind of cool. The warning makes indulging in ice cream feel even naughtier. But with only 2 percent alcohol by volume, you would have to pound a lot of ice cream to catch a buzz. In fact, my 4-1/2-year-old son got a hold of Silver Moon's excellent Cointreau-flavored "orange creamsicle," and afterward he could still operate his scooter just fine. But at a whopping $9.50 a pint, this is definitely a grown-up dessert. It's good stuff, but maybe upping the alcohol content would help make the hefty price tag easier to swallow.
Tate's inspiration for her flavors comes from cocktails and liqueurs. My favorites are the aforementioned Orange Creamsicle made with bits of bitter orange, the chunky but creamy "Coffee with Brownie Bits" made with coffee liqueur and the "Mojito Ice" infused with rum and Triple Sec. I find most sorbets too sweet and too icy, but Silver Moon's are more restrained and creamier.
Silver Moon makes 18 flavors in all, and Tate says she'll be releasing holiday flavors this winter—"Cranberry Chambord Sorbet" and "Frangelico and Cocoa Nib."
Silver Moon desserts are available at Draeger's, Robert's Market in Woodside, Zanotto's Family Market in San Jose, the Milk Pail Market in Mountain View and Gene's Quito Market in Saratoga. For more information, go to Silivermoondesserts.com.
The strength of Silicon Valley's restaurant scene is its diversity. We've got a little bit of everything. Food lovers will get a chance to sample this diversity at a great price as Silicon Valley Restaurant Week makes its debut this fall. Participating restaurants will offer a $35 three-course fixed price dinner menu each night they are open between Oct. 14 and 21.
The Metro-sponsored event is based on similar events held in scores of other U.S. cities. Now we're getting a taste of the action. Diners get a chance to sample cuisine from a broad selection of restaurants at a great price. It's a way for restaurants to thank local customers and for consumers to show their support for restaurants in a difficult economic year.
The meal will include an appetizer, entree and dessert. Restaurateurs are being asked to offer three options for each course (three appetizers, three entrees and three desserts) so diners have a selection.
Dozens of restaurants from across Silicon Valley are expected to participate. Among those signed up already are Alexander's Steakhouse, Arcadia, Paolo's, Mezcal, Nick's on Main, Steamer's GrillHouse, Valeriano's, Los GAtos Brewing Co., Mountain View's Sakoon and Santana Row's Village California Bistro.
For more information, go to siliconvalleyrestaurantweek.com; there, you can sign up to become a fan of the event on Facebook, which gives you a chance to win free gift certificates. And for more thoughts and insight about food and dining out, follow me on Twitter @stett_holbrook and @sanjosedining.
Send a letter to the editor about this story.