07.22.09
home | metro silicon valley index | movies | current reviews | film review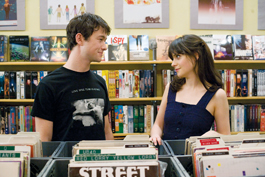 Photograph by Chuck Zlotnick TWEE, THE PEOPLE: Zooey Deschanel and Joseph Gordon-Levitt can't quite stick it out in '(500) Days of Summer.'
Summer's Time
Zooey Deschanel stakes her claim as queen of the alterna-date movie in '(500) Days of Summer'
By Richard von Busack
TOM (Joseph Gordon-Levitt), a greeting-card writer, has his heart broken by a girl he knew for about two years. She was called Summer (Zooey Deschanel) and worked at his office. She drifted in and out of his embrace and finally out of his life. "She's either an evil, emotionless human being, or she's a robot," Tom sums up. He bends the ear of his little sister, Rachel (Chloe Moretz), and the girl acts as a child psychologist to his romantic troubles.
Truly, Tom never really knew Summer, let alone where he stood with her. Scenes are keyed to an animated calendar, showing us the dates where various happy moments and hurts took place. Sometimes there were tentative reconciliations, sometimes none-too-tentative dumping. As Tom recalls this anti–love story in random-accessed moments, we begin to see the bigger picture. (500) Days of Summer, an allegedly anti-romantic film, turns the spinning calendar into a new kind of gimmick. The result, though, is yet another alterna-date movie.
Over a boilerplate disclaimer before the film's titles, we are assured that (500) Days of Summer isn't based on anyone real—anyone, that is, except for one girl, identified by name, and called, in a one-word sentence, "Bitch."
In every failed romance, there is a bastard as well as a bitch, someone who, despite his alleged sensitivity, wasn't paying attention to what was really going on. The film ignores this point, and that makes it seem naive. Still, (500) Days of Summer is worth recommending strongly to a young lovelorn audience, despite aspects that drove me absolutely crazy.
(500) Days of Summer is the best of a lot that includes Away We Go, Juno and a few others that I have happily forgotten. The film moves in sprightly fashion; the scenes don't go on so long they wear out their welcome. And yet it's so full of negative space—places where jokes could have been planted, places where the characters could have been deepened. Geoffrey Arend, for instance, as Mckenzie, Tom's best friend, keeps seeming like he is about to go beyond being mere comedy relief.
If only director Marc Webb had spent as much time thinking how to fill in the blanks as he spent murmuring, "It's going to be Annie Hall for our generation." The cast nearly break their ankles over the dropped references. But the touchstone is Woody Allen, mostly. (They say the old man is washed up, and yet every alterna-date movie quotes him.)
The use of the L.A. downtown buildings reminds us that we just saw this tactic in Alex Holdridge's In Search of a Midnight Kiss, with its attempt to turn L.A.'s Broadway into Allen's Manhattan. (Me, I'm glad that filmmakers are discovering the old buildings and are not just blowing them up like Michael Bay did in his first Transformers.)
When not mooning over old edifices, Webb stages parodies of classic films—a stray bit of Seventh Seal, some odd nouvelle vague romance (95 out of 100 filmgoers under 25 believe that all French movies have mimes in them). And there's some Disney, too. When Tom is happy one morning, cartoon bluebirds flitter into the frame, just in the way Snow White's Wicked Queen dropped into Annie Hall.
Here, also, is the inevitable if unusually witty nod to Star Wars lore. After a successful night with Summer, Tom looks at his reflection and sees the coolest guy in movies—as long as your standards for cool extend only as far as The Empire Strikes Back
Webb has seen a lot of movies; plainly, he knows his art. Despite the po-mo emphasis, it is good to see in (500) Days of Summer the kind of relationship that really cleans a young man's clock. Calling an ex-lover a bitch, even in sport, is a sign that the emotional source material might not have been processed enough for a script.
(500) Days of Summer might have been about the same one-dimensional romance that was chronicled in Forgetting Sarah Marshall. The surprise here is a sudden reverse angle. At long last, we learn why there was a good reason why Summer kept her distance. She expresses this reason in a handsomely curt sentence, a real epitaph to a relationship.
The actors keep you interested. Gordon-Levitt takes the suave geek role and makes it charming. As the mysterious Summer, Deschanel does what she can playing a girl-next-door who has a covert core. I'm in the minority, but I don't think Deschanel is perfect for the part. She's not unreal enough. Someone British would have made Summer harder to second-guess, given her more teasing glamour. The film will probably complete the coronation of Deschanel as the queen of the alterna-date movie, even as she plays it modest, with occasional out-of-character flashes of naughtiness.
Deschanel's aging-little-girl style is as essential to the shoe-gazer romance as those wee big-eyed, big-faced figures—like steamrollered-flat kewpie dolls—are to so much modern painting. She has indefinable magnetism, despite her chastity-pledge wardrobe; there's something compelling about the blue hair ribbon, the blue wide-open eyes, the toneless voice that swells into a moment of sweet karaoke on the old Nancy Sinatra hit "Sugartown."
What is it about Deschanel? Lisa Simpson was seen reading a copy of Non-Threatening Boys magazine. If there's ever a spin-off, Non-Threatening Girls, who could be the cover girl if not Zooey?

(500) DAYS OF SUMMER (PG-13; 95 min.), directed by Marc Webb, written by Scott Neustadter and Michael H. Weber, photographed by Eric Steelberg, and starring Joseph Gordon-Levitt and Zooey Deschanel, opens July 24.
Send a letter to the editor about this story.