07.22.09
home | metro silicon valley index | movies | current reviews | film review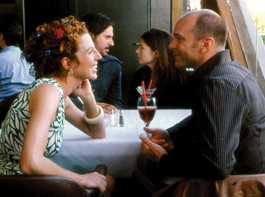 Photograph by Jerome Prebois THE DATING GAME: Irene (Tanna Frederick) has enough problems to keep most dates to one and done in 'Irene in Time.'
Small Talk
Indie pioneer Henry Jaglom returns with 'Irene in Time,' an exasperating story of troubled ladies of leisure
By Richard von Busack
ODD THAT Henry Jaglom—a director who is a bona fide member of the Easy Riders/Raging Bulls pack of 1969 (he even worked on Easy Rider)—never gets his props as an early independent filmmaker. Allegedly, the craft started with Cassavetes, but they don't recall Jaglom as much, even though he predates the indie-film rebellion by a decade. And is there any indie filmmaker half Jaglom's age—no, a third his age, even—as interested in the conversations of women? Unfortunately, when he's not on his game, Jaglom also represents some of the less fascinating aspects of indie film: the tendency toward tunnel-vision focus on relationships and heartbreak while excluding the troubles of the outside world; the tendency to explore the navel; the tendency, in short, to focus on characters who, while possessing the turbulent personalities essential for drama, really just need to take a big pill and calm down.Irene (Tanna Frederick), Jaglom's subject in Irene in Time, is every bit as big a mess as Karen Black was in his Can She Bake a Cherry Pie?, made 26 years ago. Looking for love, this no-visible-means-of-support L.A. singer is, in Jaglom's view, saddled with Freudian probs. Irene misses her daddy, and she's the first to admit it. Dates don't work; one architect she takes out asks her, "What is your problem?" (Good question, actually.) Frederick is dynamic to say the least—with her full-force, oversized smile and her cascading red corkscrew hair, she looks like Rita Hayworth with a toe caught in an electric socket. Frederick has the 500 percent intensity of a born stage actor caught in a movie, and we can see easily why men think she's too intense.While such a character could be made the subject of Chekhovian or Ophuls-like tenderness, there's not an inch between Irene and Jaglom; her friends adore her and all her problems with men, and she holds court more than she has conversations. The film's plot gets started about halfway through, after some loose improvs and recollections. One afternoon, exploring her childhood bedroom, Irene finds a long-ago note from her late father. During a trip to Catalina Island, Irene is outraged and upset to discover a jazz singer who knows a song that her father wrote. The film is held together with a cycle of songs performed by Harriet Schock and her group.
As Irene's mother, Victoria Tennant is impressive; she reminds you of the women who have excelled in Jaglom's films—Viveca Lindfors and Melissa Leo, particularly. Jaglom's emphasis on visual quality and camera movement distinguishes him from most indie filmmakers; he even uses a telephoto lens to capture Irene, sitting on the edge of the Santa Monica palisades; it's sort of a rebuke to the visual flatness of so much point-and-shoot cinema. Under Jaglom's Actor's Studio–trained direction, the cast tries to find the emotional truth in these tricked-up, coincidence-laden, melodramatic old-movie situations. The most truthful line comes from a new friend of Irene's, who turns out to be a relative as well: she tells the moping redhead: "You come from a long line of narcissists."

IRENE IN TIME (PG-13; 95 min.), directed and written by Henry Jaglom, photographed by Hanania Baer, and starring Tanna Frederick and Victoria Tennant, opens July 24 at selected theaters.
Send a letter to the editor about this story.