07.22.09
home | metro silicon valley index | music & nightlife | band review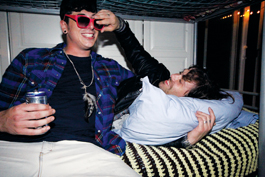 Photograph by Sam Yapp
THEY ARE VERY BUSY PEOPLE: Gio Giusti (left) and Eric Victorino of the Limousines hide out from Facebook zombies after securing a spot on the newly announced Treasure Island Music Festival lineup.
Flash Drive
For the South Bay's electro-upstarts the Limousines, success has come so fast it's scary
By Steve Palopoli
I THINK of logging on to Facebook," says Eric Victorino, "and I get this vision in my head that Scrabble-playing zombies are poking me, and they want me to join their cause."
But even the threat of his own personal zombie apocalypse can't keep the songwriter and vocalist for the South Bay electronic duo the Limousines away from social networking. Traffic jams are now an opportunity to check email on his iPhone. And, like the rest of us, he finds it a struggle to go an hour without texting.
Unlike the rest of us, Victorino has turned his new overconnected life into what very well may be the anthem for the post-Twitter generation. "Very Busy People," their first release as part of a major-label deal that allows them to put out individual singles rather than albums, is a self-effacing portrait of the artist as a chronic time-waster. It lays out a laundry list of high-tech distractions—from video games to pixilated porn—but nonetheless is delivered with the same ironic pride as "Smells Like Teen Spirit." "That Donnie Darko DVD has been repeating for a week, and we know every single word," Victorino sings gently over the pulsing electronic hooks of Gio Giusti. "I've got an iPod like a pirate ship, I'll sail the seas with 50,000 songs I've never heard."
"Very Busy People" is getting radio play on Live 105, just the latest in a series of quick successes for a project that up until a year ago was only a hobby. The lineup for Treasure Island Music Festival, one of the Bay Area's biggest events, was announced last week, with the Limousines on the bill. Recently, they played Live 105's BFD and opened for Duran Duran's sold-out show at Mountain Winery—all the more impressive when you consider they've only played together live a dozen times, ever. Before signing with Universal, they were courted by Interscope and Perez Hilton. Lindsey Lohan, of all people, tweeted that she is a fan.
For Victorino, it's a bit of a whirlwind. After years of not getting exactly these kinds of breaks, the former frontman for popular local band Strata is trying to just enjoy the ride.
"I'm glad I know this isn't normal," he says. "It's different, when you're used to struggling for every little thing. All the milestones the rock band had to fight for have just been coming to us."
The Limousines was originally more a pressure valve than a band. While recording Strata's second album in England, Victorino was tired of band politics and needed another outlet, one that wasn't quite as dark and heavy.
"The Limousines was kind of born out of wanting to make music that was a little more fun," he says, "and didn't make me depressed."
Incredibly, he and Giusti had never met when they began recording together, or even when they finished their first few songs. A guitar tech for Strata turned Victorino on to the remixes Giusti had created out of the a cappella version of Jay Z's American Gangster album. The duo communicated mostly over instant messaging, with Giusti emailing instrumental tracks, and Victorino writing lyrics and singing into his laptop.
"We had a policy that we would upload stuff to Myspace constantly. We just threw all these demos up—bam, bam, bam. I think that freedom was why I was really attracted to doing this," says Victorino. "But we didn't start off as friends, we started off as fans of each other's work. Now we're actually collaborating a little more on the songs, and we've gotten to know each other more, and we've become really close friends."
Close enough that Giusti could push him to write "Very Busy People," which almost didn't happen.
"I'm kind of notorious for not finishing things I start," he admits. "Gio kept saying, 'Dude, finish this one.' I said, 'I don't know what to write,' and he said, 'Write what you know.' It kind of feels like all I know right now is Myspace and Twitter and Facebook."
With the group's success, Victorino—who also released his second book of poetry, Trading Shadows for Sunshine, last year—is trying to hold on to their fast-and-loose creative spirit and avoid second-guessing himself.
"It was scary, because we started getting attention really fast," he says. "There's more eyeballs looking at you, so you're more careful about what you do."
Meanwhile, the Treasure Island Music Festival is approaching, headlined by the Flaming Lips and MGMT, which incidentally is also the group to which the Limousines have drawn the most comparisons. But this is all still new enough that Victorino will wait and see what happens before it rolls around Oct. 17.
"I'm waiting for the email that's like, 'Sorry, we thought you were someone else.'"
Send a letter to the editor about this story.