07.22.09
home | metro silicon valley index | music & nightlife | band review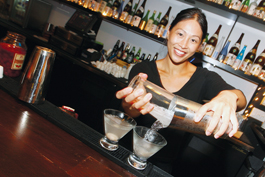 COOL DELIGHT: Kathy Tran, owner of Koji Sake Lounge, serves up an Ichi martini.
Sake
By Colleen Watson
MOST OF my experiences with sake were back in my college days, and they involved a Japanese steakhouse, a beer, a shot of sake, a really loud group of drinkers and a lot of chugging. This is not what you'll find at the Koji Sake Lounge in downtown San Jose. The minimalist interior suggests a more upscale atmosphere, and a wall of sake bottles behind the bar suggests that you actually try to taste the sake instead of just shooting it.
I got there during happy hour (which runs until 9pm, so you have time to savor it), when you can get cocktails and appetizers for $5. My friend and I decided to try a flight of sake. The server, who helped us choose the best flight for us, set three glasses of sake in front of us with names such as Man Mountain, Beautiful Boy and Demon Slayer. And I have to admit Man Mountain and Beautiful Boy were not for me and not just because of the sexually ambiguous names. But Demon Slayer was surprisingly smooth and easy to drink.
Koji was pretty quiet when we first arrived around 7pm, but people soon started to trickle in. By 10pm, the intimate little sake bar was filled with a mostly Asian crowd laughing and drinking sake cocktails. The TVs showing the baseball game seemed a little out of place, but otherwise Koji is a classy little joint.
Koji Sake Lounge
48 S. First St., San Jose; 408.287.7199.
Send a letter to the editor about this story.