07.22.09
home | metro silicon valley index | the arts | stage | review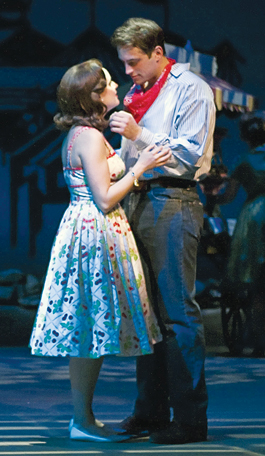 Photograph by Tracy Martin
DOWN SOUTH: Chris Critelli falls for Melissa WolfKlain in 'Tinyard Hill.'
Young Love
War and meddling relatives stand in the way of two teens in TheatreWork's 'Tinyard Hill' musical
By Jessica Fromm
A BOY FROM the wrong side of the tracks meets a prissy city girl who is on vacation in the Deep South. After much canoodling among the Spanish moss and adversity from parental figures, they succumb to a matrimonial fate. No, this is not a rehash of the plot of romantic tearjerker The Notebook, it's the story line of Tinyard Hill, the new centerpiece musical at TheatreWorks' New Works Festival. Though the action is entirely clichéd and the twang-tinged score is catchy but not mind-blowing so, the production still manages to be propped up by humor and fervent performances by the country-pop musical's quartet of actors.
The year is 1964 in the small town of Tinyard Hill, Ga., and David Kingsley is dreaming big. The idealistic 18-year-old blacksmith (the handsome Chris Critelli, who bears more then a passing resemblance to Robert Pattinson) has plans for his family's 200-year-old anvil shop. He plans on turning the struggling business into a thriving auto-repair outfit, much to the chagrin of his father, Russell (James Moye). When young and pretty Aileen Garrett (Melissa WolfKlain) comes bouncing into town with her pageboy and pillbox hat, David's world gets turned upside down. Recently engaged to an older psychiatrist in New York, 18-year-old Aileen is staying for the summer in Tinyard Hill so that her Aunt May Bell Whitehead (Allison Briner) can sew her a wedding dress.
Though the South seems far away from the Gulf of Tonkin, framing this scenario is the impending Vietnam War, a concern that stays on the lips of the characters as well as transistor radios in the set's background. Although feisty May Bell and trash-talking Russell try to keep the kids apart, of course these two bright young things are destined to fall in love. But David's future and newfound romance are plunged into flux when he receives a draft notice in the mail, while at the same time backstories are revealed and the characters must choose between duty and love.
Written and scored by two native Georgians, Tommy Newman and Mark Allen, the old South represented in Tinyard Hill is heavy on stereotypes, but the songs and personalities aren't stupid. This is a musical, of course, and outlining the play's action are spontaneous bursts into song, all accompanied by a live banjo and fiddle equipped ensemble lead by William Liberatore offstage. The two lovers harmonize well, but WolfKlain's sweet but unimpressive voice is no match for Critelli's bold tenor. The romance between Aileen and David is playful and irresponsible enough to be realistic, underscored in "Easy," a slow, perfectly delivered song that frames their first kiss. Moye's sharp baritone is more then capable, and Briner's alto is appealing whether it is delivering solos or Southern-fried one-liners in "Keep It Simple," her '60s-girl-group-like duet with WolfKlain.
Still, the songs never seem to rise above the play's premise and walk on their own legs, though the country-pop score and cast chemistry are first-class. Ultimately, Tinyard Hill is a frolicking yet formulaic production that will appeal most to those audience members who can remember and relate back to the heady, impetuous days of the early '60s.
TINYARD HILL, a TheatreWorks production, plays Tuesday–Wednesday at 7:30pm, Thursday–Friday at 8pm, Saturday at 2 and 8pm and Sunday at 2 and 7pm, through Aug. 16 at the Lucie Stern Theatre, 1305 Middlefield Road, Palo Alto. Tickets are $29–$67. (650.463.1960)
Send a letter to the editor about this story.