07.22.09
home | metro silicon valley index | the arts | stage | review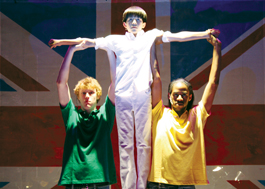 Photograph by Vera Sloan
UPLIFTING: Noel Carey (left) and Phillip Pettiford give young Tommy (Nicolas Sancen) a boost.
Boy Wonder
New City Lights production prompts the question: Why 'Tommy'?
By Steve Palopoli
AMONG South Bay theater companies, City Lights regularly provides one of the most extraordinary mixes of cutting-edge material and professional production. Small enough to take risks, but big enough to pull them off, the company has been smart and nimble enough to succeed memorably with challenging material like Edward Albee's The Goat or Who Is Sylvia? and the theatrical adaptation of Philip K. Dick's Flow My Tears, the Policeman Said.
Which prompts the question: Why The Who's Tommy? City Lights produces a musical every summer, so clearly this is a chance for the company to let its hair down artistically a little bit. But the Who's musical about a boy struck deaf and dumb by trauma who finds escape in pinball and then cultlike stardom isn't particularly light or breezy. It's also strangely dated, and sticking with the original musical's post–World War II look in the opening, and its Summer of Love feel throughout, doesn't help. Director Kit Wilder does seem to zero in on some interesting relevance for Pete Townsend's opus in the second half, when the ingenious use of closed-circuit TVs and nonstop camcordering finally tie Tommy into 21st-century concerns about the disposable quality of viral culture. It matches up well with the musical's more traditional (and, I've always thought, a bit too obvious) points about the pitfalls of fame, but it comes in too late.
Underneath those larger issues, there is some notable work here to recommend. The choreography by Amanda Folena is excellent. She had a lot to manage with so many colorfully clothed dancers swirling around the stage, but they're fun to watch, especially when they swarm around the main character during "Sensation." There are two Tommys who shoulder the task of anchoring the action, the younger version played by Nicolas Sancen, and the older one played by Isaac Benelli. Both are excellent. Child actor Sancen maintains an incredible focus, never losing his blank stare as he's led around, threatened, or even rolled in a garbage can. Because he's able to convey his detachment so effectively it's a powerful moment when we finally see him smile in a fantasy sequence. Benelli, meanwhile, provides the epic power Tommy needs. When he sings, he sings for the rafters, and he gives the character a convincing dose of Elvis in the second act.
There are other standout moments, like the sexy and surprising "Acid Queen" sequence, featuring Raegena Raymond and a lot of scantily clad dancers. But some technical issues on opening night needed to be—and, I hope, already have been—fixed immediately, including a poor vocal mix that left many of the actors unintelligible. The live band is quite good, but the sound quality overall had major problems. If this Tommy was meant purely as a retro piece, a higher degree of camp was needed to convey that. But the unfortunate thing is that this musical could genuinely use a modernizing overhaul, and with all of its talent and innovation, City Lights could have been the company to deliver it.
THE WHO'S TOMMY, a City Lights Theater Company production, plays Wednesday (except July 22) at 8pm, Thursday–Saturdays at 8pm, Sundays at 2pm (Aug. 9, 16 and 23) and 7pm (July 26 and Aug. 2) through Aug. 23. Tickets are $30. (408.295.4200)
Send a letter to the editor about this story.