07.23.08
home | metro silicon valley index | movies | current reviews | dvd review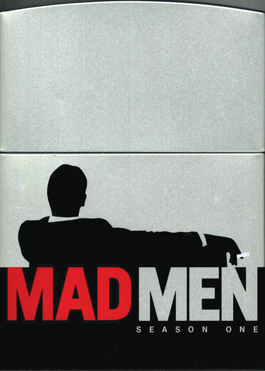 Mad Men
Four discs; Lionsgate; $49.98
By Michael S. Gant
HBO must still be kicking itself for not acting on Sopranos writer/producer Matthew Weiner's pitch for a series about 1960s-era ad executives. One network's loss is another's gain, and last year's first season of Mad Men boosted AMC's reputation as a player in scripted shows. Mad Men, which starts its second season July 27, brilliantly evokes a certain tipping point between the gray-flannel Eisenhower '50s and the sleek Kennedy '60s. It's a man's, man's world at the agency, where account executives engage in jocular sexism, and the secretaries dream of marrying the boss. Although the ad men seem to be masters of the universe, in Tom Wolfe's words, they show strains beneath the surface. Pete Campbell (Vincent Kartheiser, Angel's Connor) comes from a well-connected family but falls just short in the talent game, so he compensates by being a conniving brown noser. Slowly, as the 13 episodes progress, Pete's anxieties humanize him. Boss Roger Sterling (Anderson Cooper look-alike John Slattery) boffs the luscious office manager, Joan (Christina Hendricks). But Sterling's heart can't handle the strain. At the center of the office sits the creative genius Don Draper (Jon Hamm), a handsome cipher. He has a blonde wife and two kids but carries on multiple affairs. Don, however, bears a secret that corrodes from within the polished shell he presents to the world. He is his own product, ever in need of image control. The women's discontents run just as deep. Secretary Peggy Olsen (Elisabeth Moss) wants to be more than doormat and mistress, while Don's wife, Betty (January Jones), sinks into quiet despair in her suburban prison. Mad Men relies on extended scenes rather than quick cutting between incidents. This allows for an accumulation of tensions that slowly but inexorably pins down the characters. The payoff comes when Don presents his nostalgia-tinged campaign for the Kodak Carousel slide projector—its tranquil images of home and hearth are painfully troubling.
Click Here to Talk About Movies at Metro's New Blog
Send a letter to the editor about this story.